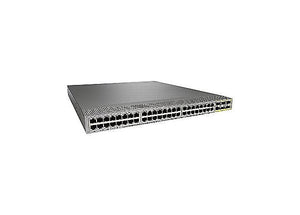 N3K-C3172TQ-ZV Cisco Nexus 3172TQ 48-port 10GBase-T Switch with 6x QSFP+ ports
The Cisco Nexus® 3172PQ, 3172TQ, 3172TQ-32T, 3172PQ-XL, and 3172TQ-XL Switches are dense, high-performance, 10- and 40-Gbps Layer 2 and 3 switches that are members of the Cisco Nexus 3100 switch platform. All switches offer improved port density and scalability in compact one-rack-unit (1RU) form factors. The Cisco Nexus 3172 switches run the industry-leading Cisco® NX-OS Software operating system, which helps ensure continuous availability and sets the standard for mission-critical data center environments. They are well suited for data centers that require cost-effective, power-efficient line-rate Layer 2 and 3 top-of-rack (ToR) switches. These switches also support forward and reverse airflow (port-side exhaust and port-side intake) schemes with AC and DC power inputs.
The Cisco Nexus 3172PQ-XL and Cisco Nexus 3172TQ-XL are minor hardware revisions of the Cisco Nexus 3172PQ and 3172TQ, respectively. Enhancements include an additional 4 GB of memory (for a total of 8 GB). The additional memory allows users to perform object-model programming. The Cisco Nexus 3172PQ-XL and 3172TQ-XL also have 2.5-GHz CPUs
The Cisco Nexus 3172 switches provide the following main benefits:
Wire-rate Layer 2 and 3 switching on all 72 10 Gigabit Ethernet ports

The Cisco Nexus 3172 switches provide Layer 2 and 3 switching of up to 1.4 terabits per second (Tbps) and up to 1 billion packets per second (bpps) in a compact 1RU form factor.

High availability

Virtual port-channel (vPC) technology provides Layer 2 multipathing through the elimination of Spanning Tree Protocol. It also enables fully utilized bisectional bandwidth and simplified Layer 2 logical topologies without the need to change the existing management and deployment models.
The 64-way equal-cost multipath (ECMP) routing enables the use of Layer 3 fat-tree designs and allows organizations to prevent network bottlenecks, increase resiliency, and add capacity with little network disruption.
Advanced reboot capabilities are included through In Service Software Upgrade (ISSU) and Fast Reboot capabilities.
Power-supply units (PSUs) and fans are hot swappable.

High performance

The Cisco Nexus 3172 switches deliver ultra-low nominal latency, which allows customers to implement high‑performance infrastructure for high-frequency trading (HFT) workloads.

Purpose-built on the NX-OS operating system with comprehensive, proven innovations

Power-on auto provisioning (POAP) enables touchless bootup and configuration of the switch, drastically reducing provisioning time.
Cisco Embedded Event Manager (EEM) and Python scripting enable automation and remote operations in the data center.
Advanced buffer monitoring reports real-time buffer use per port and per queue, which allows organizations to monitor traffic bursts and application traffic patterns.
Ethanalyzer is a built-in packet analyzer for monitoring and troubleshooting control-plane traffic and is based on the popular Wireshark open-source network protocol analyzer.
Precision Time Protocol (PTP; IEEE 1588) provides accurate clock synchronization and improved data correlation with network captures and system events.
Complete Layer 3 unicast and multicast routing protocol suites are supported, including Border Gateway Protocol (BGP), Open Shortest Path First (OSPF), Enhanced Interior Gateway Routing Protocol (EIGRP), Routing Information Protocol Version 2 (RIPv2), Protocol-Independent Multicast sparse mode (PIM-SM), Source-Specific Multicast (SSM), and Multicast Source Discovery Protocol (MSDP).

Network traffic monitoring with Cisco Nexus Data Broker

Build simple, scalable and cost-effective network test access point (TAP) or Cisco Switched Port Analyzer (SPAN) aggregation for network traffic monitoring and analysis.
Configuration
Cisco Nexus 3172TQ and 3172TQ-XL
48 fixed 10GBASE-T ports (can operate at 100-Mbps, 1-Gbps, and 10-Gbps speeds)
6 fixed QSFP+ ports (each QSFP+ port can support 4 x 10 Gigabit Ethernet or 40 Gigabit Ethernet)
Locator LED
Dual redundant[1] power supplies
Redundant (3+1) and hot-swappable fans
One 10/100/1000-Mbps management port
One RS-232 serial console port
One USB port
Support for both forward (port-side exhaust) and reversed (port-side intake) airflow schemes is available.
We offer free FedEx Ground shipping to all our customers in the continental US. If you need more information on expedited or international shipping please see our Shipping & Returns page or ask us directly via phone, email or using our Contact Form page.
---
We Also Recommend