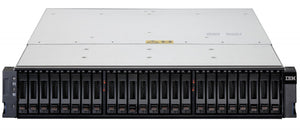 1746-E2A IBM EXP3512 Single ESM Expansion Unit, 1746-E2A
The IBM EXP3512 Expansion Unit, with support for up to twelve 3.5-inch high-performance SAS, nearline SAS drives or selfencrypting drives (SEDs), can offer the highest flexibility with support for a full range of requirements—high capacity (up to 36 TB) and low cost to high-performance critical applications. A single EXP3512 can help ensure that workload demands are assigned to the appropriate drive technology, allowing organizations to transparently tier storage without the high cost typically associated with this approach.

Part Numbers: 1746-E2A 
Specifications:
Drive interface: 6 Gbps SAS
Supported drives: 6 Gbps SAS 3.5-inch drives: 300 GB 15k rpm, 450 GB 15k rpm, 600 GB 15k rpm; 1 TB 7.2k rpm Nearline, 2 TB 7.2k rpm Nearline, 3 TB 7.2k Nearline; 600 GB 15k rpm SED
Maximum drives supported: EXP3512 – twelve 3.5-inch drives. Scalability up to 192 drives (mix of expansion enclosures)
Fans and power supplies: Dual
Rack support: Yes – standard

Size: 2U rack-optimized
Compatibility: IBM System Storage EXP3500.
We offer free FedEx Ground shipping to all our customers in the continental US. If you need more information on expedited or international shipping please see
---
We Also Recommend