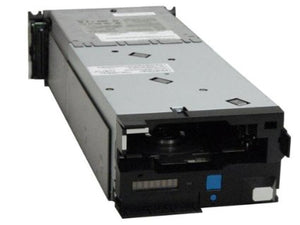 3592-E05 IBM TS1120 Tape Drive with Encryption Capability, 3592-E05
The IBM System Storage™ TS1120 Tape Drive (machine type 3592, Model E05) has been enhanced to provide you the option of using drive based data encryption. This encryption capability is now standard on all new TS1120 Tape Drives and is a chargeable upgrade feature for existing installed TS1120 Tape Drives. The encryption capability includes drive hardware, as well as microcode additions and changes. Also being introduced is a new, separate IBM Encryption Key Manager component for the Java™ Platform (Encryption Key Manager) program that supports the generation and communication of encryption keys for the tape drives across the enterprise. 
Part Numbers: 3592-E05, 23R9205, 23R6564
Specifications:
Recording Standard: 3592
Data Transfer Rate: (native) 100 MBps ( 352 GBph )
Native Capacity: 500 GB
Compressed Capacity: 1 TB
Model: Model E05
Compatibility:  IBM System z™, System i™, System p™, System x™, and can be used with a wide range of Linux on System z, Sun, and Hewlett Packard servers, and Linux-based servers, as well as Intel®-compatible servers running Linux, Microsoft™ Windows 2000, or Windows Server 2003.
We offer free FedEx Ground shipping to all our customers in the continental US. If you need more information on expedited or international shipping please see
---
We Also Recommend