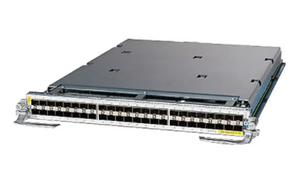 A9K-48X10GE-1G-TR Cisco ASR9000 48-port 10G/1G packet transport line card
The Cisco ASR 9000 Series 48-port dual-rate 10 Gigabit and 1 Gigabit Ethernet line card deliver industry-leading high density and high 10 Gigabit/1 Gigabit Ethernet performance to any slot of a Cisco ASR 9000 Series Aggregation Services Router. These high-capacity line cards are designed to remove bandwidth bottlenecks in the network that are caused by a large increase in video-on-demand (VoD), IPTV, point-to-point video, Internet video, and cloud services traffic, all with an incredibly low power profile.
Fully populating an ASR 9922 chassis with the 48-port line card delivers 960 ports of 10 Gigabit Ethernet or 960 ports of 1 Gigabit Ethernet in a single chassis. Such configurations are ideal for networks in which density, performance, and low-latency operations are critical. The 48-port line cards are designed for throughput of 400G but can operate in oversubscription mode up to 480G for the 48-port card. There will be a graceful redistribution of packets across all ports in case of oversubscription. All the ports on the line card can be configured to be all in 10G or all in 1G mode. The line card also offers the flexibility to support certain mixed 1G and 10G configurations.
The physical interfaces on these line cards support both Small Form-Factor Pluggable (SFP) and Enhanced SFP (SFP+) optics for long- and short-haul applications, enabling migration and support for numerous deployment scenarios requiring different media types and flexible interface modes. With these capabilities, the ASR 9000 Series line cards and routers provide the fundamental infrastructure for scalable Carrier Ethernet and IP/Multiprotocol Label Switching (IP/MPLS) networks, promoting profitable business, residential, and mobile services.
---
We Also Recommend