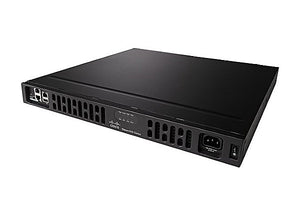 ISR4331-SEC/K9 Cisco ISR4331 Integrated Services Router Security Bundle
The Cisco 4000 Family Integrated Services Router (ISR) revolutionizes WAN communications in the enterprise branch. With new levels of built-in intelligent network capabilities and convergence, it specifically addresses the growing need for application-aware networking in distributed enterprise sites. These locations tend to have lean IT resources. But they often also have a growing need for direct communication with both private data centers and public clouds across diverse links, including Multiprotocol Label Switching (MPLS) VPNs and the Internet.
Cisco 4000 Family ISRs provide you with Cisco® Software Defined WAN (SDWAN) software features and a converged branch infrastructure. Along with superior throughput, these capabilities form the building blocks of next-generation branch-office WAN solutions.


Aggregate Throughput (Default) - 100mbps


Onboard Ports - 3x 10/100/1000

RJ45 ports - 2

SFP ports - 2

Enhanced serivce-module slots - 1

NIM slots - 2

Onboard ISC slot - 1

Memory - 4gb default/16gb max

Flash memory - 4gb default/16gb max
---
We Also Recommend