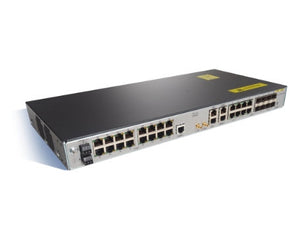 A901-4C-F-D Cisco ASR 901 Router Chassis PAYG 4 GE Port, Ethernet-only, DC Power
The Cisco® ASR 901 Series Aggregation Services Routers are hardened, high-speed, low-power-consumption routers optimized for any-generation cell-site Radio Access Network (RAN) backhaul and Ethernet access. By using Cisco ASR 901 routers, operators can reduce backhaul operating costs, simplify and converge their RAN and Ethernet access networks, and enhance their profit opportunities with mobile and premium Ethernet services.

RAN cell sites are places of transformation between mobile radio and mobile transport networks. Cost-effective RAN backhaul requires the ability to securely aggregate the transport of traffic from both traditional and next‑generation radios across multiple transport options available at the cell site, be they macro, pico, or enterprise small cells. The Cisco ASR 901 routers are designed to minimize operating costs and optimize this radio-to-transport transformation through scalable time-division multiplexing (TDM) and IP/Ethernet interfaces for any combination of multivendor, multigeneration radios and transport networks.

Product Overview

The Cisco ASR 901 Series Aggregation Services Routers are compact cell-site and Ethernet access routers specifically designed to clock, aggregate, and backhaul mixed-generation RAN traffic. Cisco ASR 901 routers prioritize and process cell-site voice, data, and signaling traffic as part of the Cisco Unified RAN Backhaul solution for reliable transport across any available backhaul networks, including T1/E1, ATM, Carrier Ethernet, microwave, WiMAX, and service provider Wi-Fi networks.

Designed for cell sites and Carrier Ethernet access, the Cisco ASR 901 differentiating features include:

● Low power consumption

● Line rate performance for all Layer 2 and Layer 3 interfaces

● Flexible clocking options: TDM, Building Integrated Timing Supply (BITS), GPS (10Mhz, 1PPS/ToD),1588v2, and Synchronous Ethernet (SyncE)
Major Applications

Cell-Site Backhaul for Mobile Applications

Deployed as cell-site routers for mobile backhaul, the Cisco ASR 901 routers can aggregate multiple base stations through multiple TDM, Ethernet, and IP interfaces, and can use Multiprotocol Label Switching (MPLS), Resilient Ethernet Protocol (REP), Multilink Point-to-Point Protocol (MLPPP), Layer 2 VPN (L2VPN), Layer 3 VPN (L3VPN), and other common transport protocols for RAN backhaul. Essentially, the routers prioritize, differentiate, and segment any combination of 2G, 3G, or 4G traffic for backhaul over any combination of IP/Ethernet and TDM (E1/T1) infrastructures (copper, microwave, or optical).

Enterprise Small Cell Backhaul

Mobile traffic will now traverse from enterprise networks across public networks, so it is essential to protect the integrity of both enterprise and carrier data. To provide secure transport across any enterprise network, a high-performance IPSec acceleration engine is required. At the same time, it is important to be able to manage both public and private networks through support for NAPT. The Cisco ASR 901 provides secure mobile transport to satisfy the evolving backhaul requirements of deploying enterprise small cells.

Metro Ethernet Access

Cisco ASR 901 routers allow service providers to simultaneously manage and operate Pseudowire Emulation Edge to Edge (PWE3) and Carrier Ethernet environments by supporting line-rate Layer 2 Ethernet operations, administration, and maintenance (EOAM), including Connectivity Fault Management (CFM), Ethernet Local Management Interface (E-LMI), REP, QinQ, and link aggregation.

Business Access Device

Cisco ASR 901 routers are optimized for remote-access and small aggregation sites where a fully featured, compact access platform is needed. The routers offer business service flexibility using an Ethernet virtual circuit (EVC) infrastructure and deliver Layer 2, IP, and MPLS transport for advanced Layer 2 and Layer 3 VPN services.
Benefits

Cisco ASR 901 routers help service providers deliver advanced services and reduce operating costs for mobile backhaul and Carrier Ethernet access solutions. Highlights include the following.

Network Simplification

Cisco network virtualization technology can simplify network operations by reducing the number of components that must be managed, supporting easier configuration. The Cisco ASR 901 supports Zero Touch Provisioning (ZTP) and autonomic networking and service activation to accelerate network deployment and service turn-up. The result is increased network scalability, improved service velocity, and lower operating costs. Capable of network virtualization, Cisco ASR 901 routers can be deployed as satellites of a Cisco ASR 9000 Series system to reduce the complexity of today's mobile Internet networks.

Service Scalability

Cisco ASR 901 routers deliver line-rate performance and flexible service scalability in a compact form factor. With support for up to 32,000 MAC addresses, up to 4000 bridge domains, and multiple hierarchical queues, the routers deliver high performance and scale for all mobile and Carrier Ethernet services.

Comprehensive Services

With Cisco ASR 901 routers, services can be prioritized and differentiated through hierarchical quality of service (HQoS) and security attributes. The routers offer advanced traffic analytics and performance monitoring and control, including per-traffic-class metering, bidirectional packets, and byte statistics. The service offering is enhanced with comprehensive OAM functionality, including Layer 2 CFM, IP service-level agreements (SLAs) for Layer 3, IPSec and NAPT for enterprise small cell backhaul, and MPLS OAM and TDM advanced timing and synchronization.

Advanced Timing

Cisco ASR 901 routers provide the timing services required in today's converged access networks by offering integrated support for the BITS, 10-MHz, 1 pulse-per-second (PPS), and time-of-day (ToD) interfaces. The routers support SyncE on copper and optical ports and IEEE1588v2 Precision Time Protocol (PTP) clock recovery from T1 and E1 ports.

Reliable Deployment

A Cisco end-to-end mobile backhaul solution offers the carrier greater confidence in the delivery of a truly carrier-class mobile backhaul network. Through transport and service redundancy, the Cisco architecture helps assure network availability, resiliency, and best-in-class performance.

● Secure Mobile Transport: with IPSec and Network Address Port Translation (NAPT)

● Extended operating temperatures

● Small form factor: 1 rack unit (RU) with 8.3 - 9.1 in. depth

● Redundant power and cooling
We offer free FedEx Ground shipping to all our customers in the continental US. If you need more information on expedited or international shipping please see our Shipping & Returns page or ask us directly via phone, email or using our Contact Form page.
---
We Also Recommend