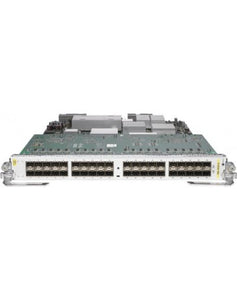 A9K-40GE-TR Cisco ASR 9000 40-port GigE Line Card, Packet Transport Optimized
Cisco A9K-40GE-TR ASR 9000 40-port GigE Packet Transport Optimized Line Card
Part Number: A9K-40GE-TR
Remove bandwidth bottlenecks in your network today that are caused by a large increase in video-on-demand (VoD), IPTV, point-to-point video, Internet video, and cloud services traffic with the Cisco® ASR 9000 Series 40 and 56 Gigabit Ethernet Line Cards. This line card delivers industry-leading 40 1-Gigabit Ethernet ports or a combination of 4 10-Gigabit Ethernet and 16 1-Gigabit Ethernet ports to any slot of a Cisco ASR 9000 Series Aggregation Services Router. These line cards deliver economical, scalable, highly available, line-rate Ethernet and IP/Multiprotocol Label Switching IP/MPLS) edge services. The Cisco ASR 9000 Series line cards and routers are designed to provide the fundamental infrastructure for scalable Carrier Ethernet and IP/MPLS networks, allowing profitable business, residential, and mobile services.
The Cisco ASR 9000 Series 40 and 56 Gigabit Ethernet Line Cards are fully compatible with all Cisco ASR 9000 Series chassis except the Cisco ASR 9001 Router. No hardware upgrade to the chassis or cooling system is required to deploy these line cards.
Each line card provides simultaneous support for both Layer 2 and Layer 3 services and features. This helps operators qualify and stock a single line card that can be deployed in any combination of Layer 2 and Layer 3 applications. It also helps reduce capital expenditures (CapEx) and operating expenses (OpEx) and reduces the time required to develop and deploy new services. The Cisco ASR 9000 Series Ethernet line cards set a new standard for Layer 2 and Layer 3 service density and scale, allowing operators to offer highly predictable, managed transport services while optimizing the use of network assets.
With their synchronization circuitry and dedicated backplane timing traces for accessing the route switch processor's (RSP's) Stratum-3 subsystem, the line cards provide standards-based line-interface functions for delivering and deriving transport-class network timing, allowing support for network-synchronized services and applications such as mobile backhaul and time-division multiplexing (TDM) migration. Coupled with the RSP, the line cards can also be used for applications requiring IEEE 1588v2 synchronization services. Recognizing that real‑time media dominate next-generation services, Cisco has integrated media-monitoring technology into the Cisco line cards. This multimedia technology allows real-time monitoring and statistics collection of real-time video and voice flows, facilitating proactive maintenance and management of today's comprehensive media services.
Options: Each line card is available as either a Service Edge Optimized (enhanced QoS) or Packet Transport Optimized (basic QoS) line card
We offer free FedEx Ground shipping to all our customers in the continental US. If you need more information on expedited or international shipping please see our Shipping & Returns page or ask us directly via phone, email or using our Contact Form page.
---
We Also Recommend