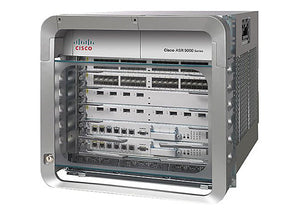 ASR-9006-DC-V2 Cisco ASR-9006 DC Router Chassis with PEM Version 2
**PLEASE NOTE - CHASSIS ONLY - DUAL FANS & POWER SUPPLIES SOLD SEPARATELY
The Cisco® ASR 9000 Series Aggregation Services Routers (ASR 9000 Series) represent an exciting new paradigm in edge and core routing, with exceptional scalability, carrier-class reliability, environmentally conscious design, incredible flexibility, and an attractive price-to-performance benchmark. The Cisco ASR 9000 Series has a wide product portfolio, ranging from the Cisco ASR 9001 (2 Rack Units [2RU]) to the Cisco ASR 9922 (44RU), with each system designed to provide true carrier-class reliability using the Cisco IOS® XR operating system, comprehensive system redundancy, and a full complement of network resiliency schemes. The Cisco ASR 9000 Series also offers service and application-level intelligence focused on optimized video delivery and mobile aggregation. Finally, the Cisco ASR 9000 Series is designed to simplify and enhance the operational and deployment aspects of service-delivery networks.
The Cisco ASR 9000 Series is an operationally simple, future-optimized platform using next-generation hardware and software. The following are highlights of this next-generation platform:
● The Cisco ASR 9000 System brings increased power and simplicity to the edge, and the ASR 9000v sets the industry benchmark as a virtualized compact carrier-class converged access and aggregation platform. Using the Cisco "network virtualization" or nV technology, the Cisco ASR 9000 System offers exceptional pay-as-you-grow scale, carrier-class reliability, and simplified service provisioning.
● Cisco IOS XR Software modular operating system: The Cisco ASR 9000 Series uses the Cisco IOS XR operating system, made famous by the highly successful Cisco CRS Carrier Routing System platform in core deployments. Built for distributed systems such as the Cisco ASR 9000 Series, the Cisco IOS XR operating system uses a microkernel architecture to achieve true modularity. This modularity provides the path to nonstop operations during software image upgrades or module changes, without affecting normal platform operations.
● Fully distributed system: The Cisco ASR 9000 Series operates in a fully distributed fashion; all packet-forwarding decisions and actions take place on the individual line cards. These high-density Ethernet line cards are equipped with a specialized network processor that provides a flexible programming infrastructure with high-density Hierarchical Quality-of-Service (H-QoS) services, security, and integrated Synchronous Ethernet (SyncE). The distributed nature of the Cisco ASR 9000 Series improves resiliency by adding a new dimension in scale for features such as Bidirectional Forwarding Detection (BFD) and Ethernet Operations, Administration, and Maintenance (EOAM).
● Operationally efficient and redundant hardware: The Cisco ASR 9000 Series provides an infrastructure where all common components, Route Switch Processors (RSPs), Route Processors (RPs), switching fabric, fans and power supplies are redundant. In addition, the platform is designed to use power on an as-needed basis, depending on system requirements. Power has been modularized for a true pay-as-you-grow approach, reducing Capital Expenditures (CapEx) and providing an operationally efficient deployment. The Cisco ASR 9000 Series also provides a space-optimized small-platform option that uses the common components of the series and retains a central-office deployment-ready capability.
● Environmentally conscious design: In today's world of increasing awareness of human impact on the environment and the resultant fiscal implications, Cisco ASR 9000 Series Routers bring a fresh new "conscious" approach to product development. From optimal thermal design to the architecture of the power infrastructure, from the placement of line-card components to the pitch of each slot, every design aspect has one goal in mind: reduced environmental impact through lowered power consumption and decreased cooling requirements. Even the product packaging process was evaluated to minimize the use of packaging material and thereby reduce waste at customer locations. The Cisco ASR 9000 Series is an example of the continued Cisco commitment to efficient and future-friendly product design.
● Ready for the transition to IPv6: Cisco is delivering on our strategy of building out IPv6 next-generation networks to simplify design, deployment, and management of services for global service providers. The Cisco ASR 9000 Series Virtualized Service Module (VSM) provides a single touch point for carrier-grade IPv6 deployment across thousands of devices.
The Cisco ASR 9000 Series offers a significant added value compared to the prior generations of Carrier Ethernet routing offerings with significantly higher switching capacity, optimized power and cooling requirements, an innovative modular power architecture, a grounds-up high-availability design, and the Cisco IOS XR modular operating system to significantly lower the Total Cost of Ownership (TCO) for service providers the world over.
Compliant Standards: ACA TS001 , AS/NZS 60950-1 , BSMI , CISPR 22 Class A , EN 60825 , EN 61000-4-11 , EN 61000-4-2 , EN 61000-4-3 , EN 61000-4-4 , EN 61000-4-5 , EN 61000-4-8 , EN 61000-6-1 , EN300-386 , EN50082-1 , EN55022 , EN55024 , ETSI , FCC CFR47 Part 15 , FDA , ICES-003 Class A , IEC 61000-4-11 , IEC 61000-4-2 , IEC 61000-4-3 , IEC 61000-4-4 , IEC 61000-4-5 , IEC 61000-4-8 , VCCI Class A ITE
We offer free FedEx Ground shipping to all our customers in the continental US. If you need more information on expedited or international shipping please see our Shipping & Returns page or ask us directly via phone, email or using our Contact Form page.
---
We Also Recommend