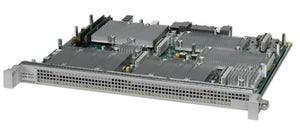 ASR1000-ESP100 Cisco ASR 1000 Embedded Services Processor 100Gbps
Cisco ASR 1000 Embedded Services Processor 100Gbps
Part Number: ASR1000-ESP100
The main engine of the ESP is the Cisco FP, the industry's first programmable and application-aware network processor. The Cisco FP forms the overall hardware and software architecture of the ESP. It consolidates up to 256 customized packet-processor cores (900 MHz to 1.5 GHz) into a single processor. The parallel processing capability eliminates the need for additional service blades inside the router, because all processing is performed on the FP. As a result, the ESPs enable the ASR 1000s to support the following functions and features with high performance:
●   Forwarding, traffic management, and services
●   Large-scale parallel processing with centralized shared memory to achieve low-latency packet processing
●   High-performance deep-packet inspection (DPI) with full visibility into the entire Layer 2 frame, including payload
●   Rapid feature development with ANSI-C software development framework
●   Up to 200-Gbps system throughput and up to 130 millions of packets per second (mpps) to address WAN aggregation needs
●   Hardware-assisted cryptographic performance to yield up to 78 Gbps of throughput to enable secure WAN access and compliance
●   Line-speed zone-based firewall that provides up to 200 Gbps of throughput and 6-mpps firewall sessions
●   DPI, Cisco IOS® Software Zone-Based Firewall distributed denial of service (DDoS) detection and prevention, and control-plane protection
We offer free FedEx Ground shipping to all our customers in the continental US. If you need more information on expedited or international shipping please see our Shipping & Returns page or ask us directly via phone, email or using our Contact Form page.
---
We Also Recommend