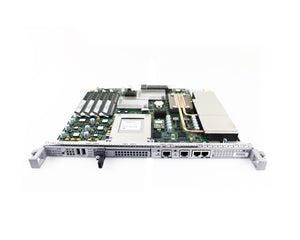 ASR1000-RP2 Cisco ASR1000 Route Processor 2
The Cisco ASR1000 Route Processor 2 is a second-generation Cisco router that addresses the route-processing requirements of carrier-grade IP and Multiprotocol Label Switching (MPLS) packet infrastructures. Unlike its predecessor (ASR1000 Route Processor 1), the RP2 offers memory scalability up to 16-GB DRAM and building integrated timing supply (BITS) output. The RP2 provides advanced routing capabilities such as negotiating and maintaining IP Security (IPsec) authentication, while also monitoring and managing other components in the Cisco ASR 1000 Series Aggregation Services Router. Other features of the ASR1000-RP2 include: 
Provide optional redundant-Processor support and dual Cisco IOS Software support for single-route-Processor solutions for the industry's most compact, fully redundant, high-availability solution, improving network resiliency, management, and costs.

Provide USB port for 1-GB Compact Flash memory support.

Offer field-replaceable and hot-swappable capabilities to help ensure minimal service disruption.

Perform high-availability failover for redundant solutions.

Provide out-of-band system console and auxiliary ports, USB, and Ethernet ports for router configuration and maintenance.
Device Type: Router
Enclosure Type: Plug-in module
Dimensions (WxDxH): 16.9 in x 14.2 in x 0.8 in
Performance Bandwidth: 10 GBps
RAM: 8 GB (installed)/ 16 GB (max) - DDR2 SDRAM
Features: VPN support, MPLS support, IPv6 support, Stateful switchover (SSO), MPLS VPN
Capacity: IPv4 routes : 4000000 ¦ IPv6 routes : 2000000
Designed For: Cisco ASR 1004, 1004 FPI Bundle, 1004 HA Bundle, 1004 Security HA Bundle, 1004 VPN and Firewall Bundle, 1004 VPN Bundle, 1006, 1006 BB Bundle, 1006 FPI Bundle, 1006 HA Bundle, 1006 Security HA Bundle, 1006 VPN and Firewall Bundle, 1006 VPN Bundle
We offer free FedEx Ground shipping to all our customers in the continental US. If you need more information on expedited or international shipping please see our Shipping & Returns page or ask us directly via phone, email or using our Contact Form page.
---
We Also Recommend