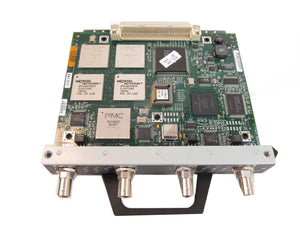 PA-MC-2T3+ Cisco PA-MC-2T3+ 2-Port Enhanced Multichannel T3+/DS3+ Port Adapter
The Cisco 2-Port Enhanced Multichannel T3+/DS3+ Port Adapter is part of the Cisco family which provides the broadest line of solutions for transporting data, voice and video while ensuring that networks both public and private operate with maximum performance, security, and flexibility. The PA-MC-2T3+ is used to provide two T3 connections using BNC connectors as well as a single expansion slot and is compatible with a large variety of products. Each of the T3 interfaces can be configured to be either unchannelized or channelized.
Network adapter - 2 ports
Part Number: PA-MC-2T3+
Plug-in module
HDLC, Frame Relay
44.7 Mbps
P/N: C7200-JC-PA, C7200-JC-PA=
ANSI T1.102
2 x network - DSX-3 - BNC - 4
1 x expansion slot
We offer free FedEx Ground shipping to all our customers in the continental US. If you need more information on expedited or international shipping please see our Shipping & Returns page or ask us directly via phone, email or using our Contact Form page.
---
We Also Recommend