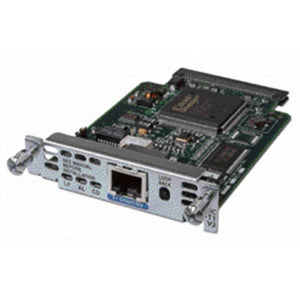 WIC-1DSU-T1-V2 Cisco T1 DSU/CSU WAN Interface Card (Ver. 2)
The Cisco T1 DSU/CSU WAN Interface Card reduces deployment and regular management tasks for your Internet. Its modular designed helps with flexibility and investment protection. This wide area network (WAN) interface card features a configuration capability that allows you to install the model remotely using the Cisco IOS software. The troubleshooting capacity for WIC-1DSU-T1-V2 allows office staff to quickly make minor adjustments to ensure your network operates with minimal downtime.
DSU/CSU
Form Factor: Plug-in module
3.1 in x 4.8 in x 0.8 in
Cisco 1711 Security Access Router, 1712 Security Access Router, 1720, 1721 Modular Access Router, 1721 VPN Security Router Bundle, 1751, 1751 VPN Bundle, 1751-V, 1760, 1760 VPN Bundle, 1760-V, 1760-V3PN Bundle, 1841 ADSL over ISDN Bundle, 1841 ADSL over POTS Bundle, 1841 ADSL over POTS Bundle w/Dying Gasp, 1841 Integrated Services Router, 1841 Security Bundle, 2610XM, 2610XM Terminal Server Bundle, 2611XM, 2611XM VPN Bundle, 2620XM, 2621XM, 2621XM VPN Bundle, 2621XM-ADSL Router Bundle, 2650XM, 2651XM, 2651XM VPN Bundle, 2651XM-V, 2651XM-V-SRST, 2691, 2801 DSL Bundle, 2801 Enhanced Security Bundle, 2801 Integrated Services Router, 2801 Security Bundle, 2801 V3PN Bundle, 2801 Voice Bundle, 2811 Enhanced Security Bundle, 2811 Integrated Services Router, 2811 Security Bundle, 2811 V3PN Bundle, 2811 Voice Bundle, 2821 Integrated Services Router, 2821 Security Bundle, 2821 V3PN Bundle, 2821 Voice Bundle, 2851 Security Bundle, 3631, 3725, 3725 Access Router Content Engine Security Bundle, 3725 Access Router IDS Security Bundle, 3725 BRI Dial Bundle, 3725 PRI Dial Bundle, 3725 VPN Security Bundle, 3735, 3745, 3745 VPN Bundle, 3745 VPN Security Bundle, 3825 Integrated Services Router, 3825 Integrated VoiceVideo, 3825 Security Bundle, 3825 V3PN Bundle, 3825 Voice Bundle, 3845 Integrated Services Router, 3845 Security Bundle, 3845 V3PN Bundle, 3845 Voice Bundle ¦ Cisco ICS 7750
NEBS level 3, FCC Class B certified, EN 60950, UL 60950
1 x modem - T1 - RJ-45
1 x expansion slot
We offer free FedEx Ground shipping to all our customers in the continental US. If you need more information on expedited or international shipping please see our Shipping & Returns page or ask us directly via phone, email or using our Contact Form page.
---
We Also Recommend