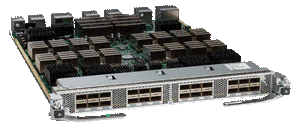 DS-X9824-960K9 MDS 9700 24-port 40Gbps FCoE Switching Module
The next-generation Cisco® MDS 9700 40-Gbps 24-Port Fibre Channel over Ethernet (FCoE) Module provides Cisco Unified Fabric connectivity to the SAN core. It empowers midsize and large enterprises that are rapidly deploying cloud-scale applications with Inter-Switch Link (ISL) consolidation by four to one over traditional 10Gbps FCoE and three to one over 16Gbps FC, and exceptional investment protection for their SANs. The data center fabric is already using 40-Gbps connectivity in the core for more efficient convergence, higher performance, and lower total cost of ownership (TCO). With the entire Cisco Nexus® Family supporting 40-Gbps FCoE, this capability can now be extended to the SAN core. You can extend the benefits of FCoE beyond the access layer to the data center core with a full line-rate FCoE module for the Cisco MDS 9700 Series Multilayer Directors.
The main features of the MDS 9700 40-Gbps 24-Port FCoE Module include:
●   High performance: MDS 9700 Series architecture, based on central arbitration and crossbar fabric, provides 40-Gbps line-rate, non-blocking, predictable performance across all traffic conditions for every FCoE port in the chassis.
●   CAPEX reduction: The 40Gbps FCoE capable ports support QSFP-40G-SR4-BD transceivers that allow users to deploy them on existing 10Gbps cable plants without having to rip and replace existing cabling in their data center thus greatly reducing capital expenditure.
●   Higher Bandwidth: FCoE takes advantage of full bandwidth utilization on a 40-Gbps Ethernet link to provide 294 percent the bandwidth of 16-Gbps Fibre Channel (the actual throughput of 16-Gbps Fibre Channel is 13.6 Gbps). Therefore, you need fewer 40-Gbps links to achieve the same bandwidth as with multiple 16-Gbps links.
●   High availability: MDS 9700 Series directors provide outstanding availability and reliability. These are the industry's first director-class switches that offer redundancy on all major components. They provide grid redundancy on the power supply and 1+1 redundant supervisors. Users can also can add fabric cards to enable N+1 fabric redundancy.
●   Scalability: The MDS 9700 FCoE module provides up to 384 40-Gbps, full line-rate, ports in a single Cisco MDS 9718 Multilayer Director chassis or 192 40-Gbps, full line-rate, autosensing ports in a single Cisco MDS 9710 Multilayer Director chassis or up to 96 40-Gbps full line-rate ports in a single Cisco MDS 9706 Multilayer Director chassis.
●   Resilient high-performance ISLs: FCoE ISLs can be grouped into port channels with up to 16 physical links, creating massive 640-Gbps logical links. When you connect to Cisco Nexus 7000 Series Switches populated with Cisco Nexus 7000 Series 40 Gigabit Ethernet modules, you can easily scale the number of director-class FCoE ports to meet the needs of the most demanding data center environments.
●   Intelligent network services: VSAN technology, access control lists (ACLs) for hardware-based intelligent frame processing, and fabricwide quality of service (QoS) enable migration from SAN islands to enterprisewide storage networks.
●   Sophisticated diagnostics: The MDS 9700 FCoE module provides intelligent diagnostics, protocol decoding, network analysis tools, and integrated Cisco Call Home capability for greater reliability, faster problem resolution, and reduced service costs.
●   Programmable fabric: The MDS 9700 Series provides powerful representational state transfer (REST) and Cisco NX-API capabilities to enable flexible and rapid programming of utilities for the SAN.
We offer free FedEx Ground shipping to all our customers in the continental US. If you need more information on expedited or international shipping please see our Shipping & Returns page or ask us directly via phone, email or using our Contact Form page.
---
We Also Recommend