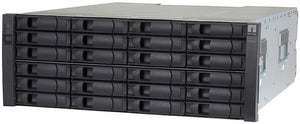 DS4243-1507-12S-R5 NetApp DS4243 Disk Shelf with 12x600gb 15k SAS disk drives, 2xIOM3, 4xAC PS, RM Kit
The NetApp DS4243-1507-12S-R5 DS4243 is Netapp's most versatile disk shelf; it supports requirements from maximum capacity and storage density to extreme performance and performance density. This disk shelf is 4U high and supports 24 hard disk drives or SSDs.  This configuration includes 12x X412A-R5 600gb 15k SAS disk drives, dual IOM3 modules, 4xAC power supplies, rackmount kit & standard AC/SAS cables.
Part Number: DS4243-1507-12S-SK-R5
Rack units: 4U
Speed: 15000rpm
Drives per shelf enclosure:24
Performance disk drives: 300GB, 450GB, and 600GB at 15k RPM
Self-encrypting disk drives: 600GB at 15k RPM
Drive form factor:3.5" large form factor
Drive carrier: Single drive
Shelf I/O modules: Dual (SATA) or quadruple (SAS),Redundant, hot-pluggable, integrated power supply/fan assemblies
Controllers Supported: With disk drives: FAS2040, FAS2050, FAS/V3070, FAS/V3100 Series, FAS/V3200 Series, FAS/V6000 Series, FAS/V6200 Series With SSDs: FAS/V3160, FAS/V3170, FAS/V3240, FAS/V3270, FAS/V6040, FAS/V6080, FAS/V6200 Series
We offer free FedEx Ground shipping to all our customers in the continental US. If you need more information on expedited or international shipping please see our Shipping & Returns page or ask us directly via phone, email or using our Contact Form page.
---
We Also Recommend