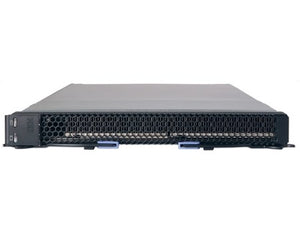 8406-71Y IBM 16-core 3.0ghz PS701 Blade Server
The PS701 blade server (8406-71Y) is a single socket, single-wide 8-core 3.0 GHz POWER7 processor-based server. The POWER7 processor is a 64-bit, 8-core with 256 KB L2 cache per core and 4 MB L3 cache per core. The PS701 blade server has 16 DDR3 memory DIMM slots. The industry standard VLP DDR3 memory DIMMs are either 4 GB or 8 GB running at 1066 MHz. The memory is supported in pairs, thus the minimum memory required for PS701 blade server is 8 GB (two 4 GB DIMMs). The maximum memory that can be supported is 128 GB (16x 8 GB DIMMs). The PS701 blade server has two Host Ethernet Adapters (HEA) 1 GB integrated Ethernet ports that are connected to the BladeCenter chassis fabric (midplane). The PS701 also has an integrated SAS controller that supports local (on-board) storage, integrated USB controller and Serial over LAN console access through the service processor, and the BladeCenter Advance Management Module. The PS701 has one on-board disk drive bay. The on-board storage can be one 2.5-inch SAS HDD. The PS701 also supports one PCIe CIOv expansion card slot and one PCIe CFFh expansion card slot. 
Part Number: 8406-71Y
We offer free FedEx Ground shipping to all our customers in the continental US. If you need more information on expedited or international shipping please see our Shipping & Returns page or ask us directly via phone, email or using our Contact Form page.
---
We Also Recommend