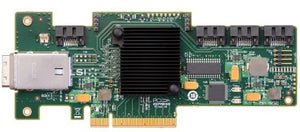 EJ0L-91XX IBM PCIe3 12 GB Cache RAID Adapter
The PCI Express (PCIe) generation 3, 12 GB Cache RAID SAS quad-port 6 Gb Adapter is a large cache PCIe3 SAS adapter that provides high-performance capabilities and supports the attachment of serial-attached SCSI (SAS) disks and SAS solid-state drives (SSDs) through four mini SAS high-density (HD) connectors. The feature code (FC) EJ0L has up to a 12 GB write-cache via compression. The adapter is a 64 bit, 3.3 V, bootable SAS adapter that supports RAID levels 0, 5, 6, and 10 as well as system level mirroring via the operating system. The adapter must be installed in pairs and must be used in a high availability, multi-initiator RAID configuration with two adapters in dual-controller mode (dual storage IOA configuration). Two FC EJ0L adapters provide additional performance and adapter redundancy with mirrored write-cache data and mirrored RAID parity footprints between the adapters. If the FC EJ0L pairing is broken, then the write cache is disabled. Integrated flash memory with capacitors provides protection of the write cache in case of power failure, without the need for batteries as were used with some previous large cache adapters.
Part Number: EJ0L-91XX
We offer free FedEx Ground shipping to all our customers in the continental US. If you need more information on expedited or international shipping please see our Shipping & Returns page or ask us directly via phone, email or using our Contact Form page.
---
We Also Recommend