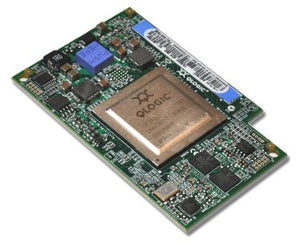 44X1945 IBM Qlogic 8Gb Fibre Channel Expansion Card (CIOv) for IBM BladeCenter
The QLogic 8Gb Fibre Channel Expansion Card (CIOv) for BladeCenter enables high-speed access for blade servers to connect to a Fibre Channel storage area network (SAN). When compared to the previous-generation 4 Gb adapters, the new adapter doubles the throughput speeds for Fibre Channel traffic. As a result, you can manage increased amounts of data and possibly benefit from a reduced hardware expense. For example, in bandwidth constrained Microsoft Exchange environments, by using 8 Gb adapters and switches, you can deploy 68% less adapter and switch hardware to support the same number of users as 4 Gb adapters.
Part Number: 44X1945
The QLogic 8Gb Fibre Channel Expansion Card (CIOv) has the following features:
CIOv form factor
QLogic 2532 8Gb ASIC
PCI Express 2.0 host interface
Support for two full-duplex Fibre Channel ports at 8 Gbps maximum per channel
Support for Fibre Channel Protocol Small Computer System Interface (FCP-SCSI) and Fibre Channel Internet Protocol (FC-IP)
Support for Fibre Channel service (class 3)
Support for switched fabric, point-to-point, and Fibre Channel Arbitrated Loop (FC-AL) connections
Support for NPIV when installed in the JS23/JS43
Configuration and boot support in BIOS and UEFI
We offer free FedEx Ground shipping to all our customers in the continental US. If you need more information on expedited or international shipping please see our Shipping & Returns page or ask us directly via phone, email or using our Contact Form page.
---
We Also Recommend