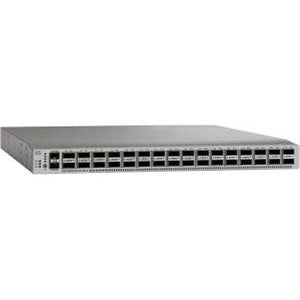 N3K-C3232C Cisco Nexus 3232C 32-port 100GBE Switch
The Cisco Nexus® 3232C Switch is a low latency, dense, high-performance, power-efficient, 100-Gbps switch designed for the data center. This compact, 1-rack-unit (1RU) model offers wire-rate Layer 2 and 3 switching on all ports with latency of 450ns. It is a member of the Cisco Nexus 3200 platform and runs the industry-leading Cisco® NX-OS Software operating system, providing customers with comprehensive features and functions that are widely deployed. The comprehensive programmability features help enable organizations to run today's applications while also preparing them for demanding and changing application needs such as big data, cloud, and virtualization. The Cisco Nexus 3232C supports both forward and reverse (port-side exhaust and port-side intake) airflow schemes with AC and DC power inputs.
The Cisco Nexus 3232C is a Quad Small Form-Factor Pluggable (QSFP) switch with 32 QSFP28 ports. Each QSFP28 port can operate at 10, 25, 40, 50, and 100 Gbps, up to a maximum of 128 x 25-Gbps ports.
The Cisco Nexus 3232C provides the following:
Wire-rate Layer 2 and 3 switching on all ports[2], with up to 6.4 terabits per second (Tbps) and up to 3.3 billion packets per second (bpps)
Robust programmability, with support for Cisco NX-API, Linux containers, XML and JavaScript Object Notation (JSON) APIs, the OpenStack plug-in, Python, and Puppet and Chef configuration and automation tools
High performance and scalability with a four-core CPU, 8 GB of DRAM, and 16 Mb of dynamic buffer allocation, making the switch excellent for massively scalable data centers and big data applications
Flexibility

The QSFP28 port can be configured to work as 4 x 25-Gbps ports, offering deployment flexibility, with up to a maximum of 128 x 25-Gbps ports.
Both fiber and copper cabling solutions are available for 10-, 25-, 40-, 50-, and 100-Gbps connectivity, including active optical cable (AOC) and direct-attached cable (DAC).

High availability

Virtual PortChannel (vPC) technology provides Layer 2 multipathing through the elimination of Spanning Tree Protocol. It also enables fully utilized bisectional bandwidth and simplified Layer 2 logical topologies without the need to change the existing management and deployment models.
The 64-way equal-cost multipath (ECMP) routing enables the use of Layer 3 fat-tree designs. This feature allows organizations to prevent network bottlenecks, increase resiliency, and add capacity with little network disruption.
Advanced reboot capabilities include hot and cold patching and fast reboot capabilities.
The switch uses hot-swappable power-supply units (PSUs) and fans.
We offer free FedEx Ground shipping to all our customers in the continental US. If you need more information on expedited or international shipping please see our Shipping & Returns page or ask us directly via phone, email or using our Contact Form page.
---
We Also Recommend