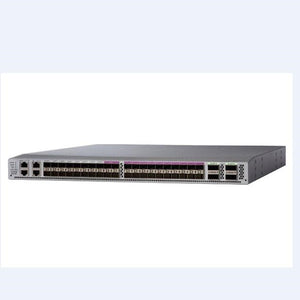 NCS-5011 Cisco NCS 5011 32-port 100G Router
Apologies for the incorrect specifications provided earlier. Here's the revised version:

Introducing the Cisco NCS-5011: Revolutionize Your Network Infrastructure

Discover the Cisco NCS-5011, a cutting-edge networking solution designed to transform your network infrastructure. With advanced features, remarkable performance, and unparalleled reliability, the Cisco NCS-5011 is a game-changer for businesses of all sizes.

Technical Specifications:

1. Powerful Performance: The Cisco NCS-5011 is equipped with a high-performance 64-bit ARM processor, delivering lightning-fast speeds and exceptional processing power. Say goodbye to bottlenecks and enjoy seamless network operations.

2. High-Density Ports: With 32 ports of 100 Gigabit Ethernet (GbE), the NCS-5011 provides the flexibility and scalability needed to support growing network demands. Connect a vast array of devices while ensuring optimal performance.

3. Modular Design: The Cisco NCS-5011 features a modular design that enables easy scalability and future-proofing. Expand your network effortlessly by adding additional line cards and modules, adapting to your evolving business needs.

4. Advanced Security: Protect your network with robust security features. The NCS-5011 offers built-in encryption capabilities, secure boot, and comprehensive access control, ensuring your network remains safe from external threats.

5. Intelligent Traffic Management: Incorporating advanced Quality of Service (QoS) mechanisms, the Cisco NCS-5011 enables you to prioritize critical applications and ensure smooth network performance. Take control of your traffic and deliver an exceptional user experience.

6. Energy Efficiency: The NCS-5011 is designed with energy efficiency in mind. Its intelligent power management capabilities reduce power consumption without compromising performance, minimizing your environmental footprint and optimizing operational costs.

What Makes the Cisco NCS-5011 Unique?

1. Versatility: Adapt the NCS-5011 to your requirements, whether upgrading your existing network infrastructure or building from scratch. Its modular design and scalability options provide the versatility you need for ever-changing business needs.

2. Simplified Network Operations: Seamlessly integrate the NCS-5011 with Cisco's industry-leading network management tools. Centralized control and automation simplify operations, reducing manual intervention and enhancing efficiency.

3. Reliability and Resilience: Built with Cisco's exceptional product quality, the NCS-5011 ensures uninterrupted network connectivity, minimizing downtime and maximizing productivity.

4. Future-Ready Technology: Embrace the latest advancements in networking technology with the Cisco NCS-5011. Stay at the forefront of innovation as network demands evolve.

Experience the Power of Cisco NCS-5011:

Upgrade your network infrastructure with the Cisco NCS-5011. Unleash its unparalleled performance, advanced features, and unmatched reliability. With its versatile design, industry-leading security, and intelligent traffic management, this switch is a game-changer.

Revolutionize the way you connect with the Cisco NCS-5011. Upgrade to a network infrastructure that empowers your business and drives success.
---
We Also Recommend