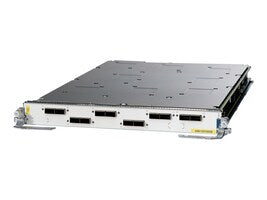 A99-12X100GE ASR 9900 12-port 100GE Line Card 100G
Unleash Unprecedented Network Power with A99-12X100GE
Welcome to the future of networking, where speed, density, and reliability converge to elevate your digital experience. Introducing the A99-12X100GE, Cisco's cutting-edge 12-port 100 Gigabit Ethernet line cards designed to revolutionize your network infrastructure.
Key Features:
High Density, Line-rate Performance: Experience industry-leading high density and line-rate 100 Gigabit Ethernet ports, seamlessly integrating into any slot of the Cisco ASR 9900 Series Aggregation Services Router.

Bandwidth Liberation: Break free from network bottlenecks caused by the escalating demands of Video on Demand (VoD), IPTV, point-to-point video, Internet video, and cloud services traffic. The A99-12X100GE line cards are engineered to remove these barriers, ensuring a fluid and responsive network.

Simplified Network Operations: Streamline your network with the capability of a single 100 Gigabit Ethernet port replacing large 10 Gigabit Ethernet link aggregation bundles. Enjoy simplified management and operational efficiency.

Flexibility Redefined: Harness the power of 100G Quad Small Form Factor Pluggable (QSFP) optics, providing the flexibility to partition 100-GE ports into four 10-GE channels. Achieve an unprecedented 48 10-GE channels per line card for versatile configurations.

Green Design for Efficiency: Embrace sustainability with our "green design." Put unused slices in power-saving mode to significantly reduce power consumption, aligning your operations with eco-friendly practices.
Applications:
Carrier Ethernet: Build scalable Carrier Ethernet networks with the foundational support of A99-12X100GE, ensuring reliability and performance.

IP/MPLS Networks: Propel your IP/MPLS networks to new heights, laying the groundwork for robust and responsive digital services.

Business, Residential, and Mobile Services: Establish the fundamental infrastructure for profitable business, residential, and mobile services with a network that scales effortlessly.
Unlock the Future Today:
The A99-12X100GE line cards embody the next frontier in networking technology. Elevate your network capabilities and embrace a future where speed meets sustainability. Cisco empowers you to redefine what's possible. Upgrade to A99-12X100GE and stay ahead in the era of digital transformation.
---
We Also Recommend