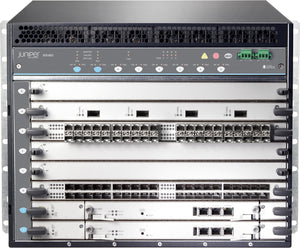 CHAS-BP3-MX480-S Juniper MX480 BP3 Chassis
The SDN-enabled MX480 Universal Routing Platform delivers high performance, reliability, and scalability for service provider and cloud applications, enabling the delivery of advanced business and residential applications and services. At just eight rack units (8 U), the MX480 offers up to 9 Tbps of system capacity in support of high-density 10GbE, 40GbE, 100GbE, and 400GbE interfaces, as well as SONET/SDH, ATM, and PDH connectivity.
The MX480 is packed with highly scalable routing, switching, security, and service features that enable revenue-generating applications, network consolidation, and service convergence. Key features include support for Flexible Ethernet (FlexE), a wide range of Layer 2 and Layer 3 VPN services and advanced broadband network gateway (BNG) functions, along with integrated routing, switching, and security services.
Powered by Junos OS and the programmable Juniper Penta silicon, the MX480 is deployed in mission-critical service provider and enterprise networks worldwide. It helps network operators prepare their networks—and their businesses—to react quickly to ever-changing market conditions in the cloud era.
---
We Also Recommend