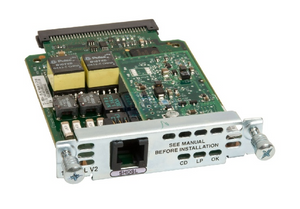 WIC-1SHDSL-V2 Cisco 1-Port G.SHDSL WAN Interface Card
The Cisco 1-Port G.SHDSL WAN Interface Card supports all G.SHDSL features plus supplies two twisted pairs of wires to implement 4-wire G.SHDSL. When the 4-wire G.SHDSL is enabled it provides a higher symmetrical bandwidth and longer reach.
DSL modem
Internal
Cisco WAN Interface Card DSL modem
Cisco 1711 Security Access Router, 1712 Security Access Router, 1721 Modular Access Router, 1721 VPN Security Router Bundle, 1751, 1751 VPN Bundle, 1760, 1760 VPN Bundle, 1760-V3PN Bundle, 2600XM, 2610XM, 2611XM, 2611XM VPN Bundle, 2620XM, 2621XM, 2621XM VPN Bundle, 2650XM, 2651XM, 2651XM VPN Bundle, 2691, 3631, 3725, 3745, 3745 VPN Bundle
1 x modem - SHDSL - RJ-11
1 x expansion slot
ATM
We offer free FedEx Ground shipping to all our customers in the continental US. If you need more information on expedited or international shipping please see our Shipping & Returns page or ask us directly via phone, email or using our Contact Form page.
---
We Also Recommend