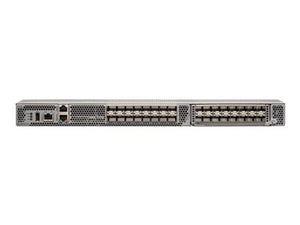 DS-C9132T-24PESK9 Cisco MDS 9132T 24x32G FC Enterprise Switch
The Cisco DS-C9132T-24PESK9 MDS 9132T 32G FC Enterprise switch includes 24 active ports + 24x16G SW Optics, 4 Fans, 2 PSUs, Enterprise license, Port Side Intake
The next-generation Cisco MDS 9132T 32-Gbps 32-Port Fibre Channel Switch  provides high-speed Fibre Channel connectivity from the server rack to the SAN core. It empowers small, midsize, and large enterprises that are rapidly deploying cloud-scale applications using extremely dense virtualized servers, providing the dual benefits of greater bandwidth and consolidation.
Small-scale SAN architectures can be built from the foundation using this low-cost, low-power, non-blocking, line-rate, and low-latency, bi-directional airflow capable, fixed standalone SAN switch connecting both storage and host ports.
Medium-size to large-scale SAN architectures built with SAN core directors can expand 32-Gbps connectivity to the server rack using these switches either in switch mode or Network Port Virtualization (NPV) mode.
Additionally, investing in this switch for the lower-speed (4- or 8- or 16-Gbps) server rack gives you the option to upgrade to 32-Gbps server connectivity in the future using the 32-Gbps Host Bus Adapter (HBA) that are available today. 
---
We Also Recommend