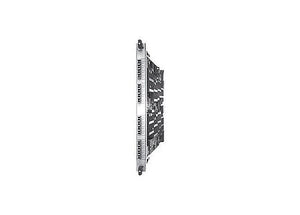 MPC-3D-16XGE-SFPP Juniper 16x10GE MPC Line Card for MX Series Routers
The Juniper MPC-3D-16XGE-SFPP MPC Line Card allows you to add 16x10GE SFP+ ports to existing MX series router deployments including MX240, MX480 & MX960 routers.
Juniper Networks MX Series 3D Universal Edge Routers process incoming and outgoing packets on several different types of interface modules (also known as line cards), including Dense Port Concentrators (DPCs), Flexible Port Concentrators (FPCs) with associated Physical Interface Cards (PICs), Trio Modular Port Concentrators (MPCs) with associated Modular Interface Cards (MICs). FPCs are populated with PICs for various interface types. DPCs and MPCs combine the functions of FPCs and the PICs, and with associated physical interfaces support a variety of interface types. Modular Port Concentrators (MPCs) provide packet forwarding services. The MPCs are inserted into a slot in an MX240, MX480, MX960, MX2008, MX2010, and MX2020 router. MPCs for MX5, MX10, MX40, MX80, and MX104 routers install directly into the router chassis. Modular Interface Cards (MICs) provide the physical interfaces and install into the MPCs. You can install up to two MICs of different media types in the same MPC as long as the MPC supports those MICs.
Part Number: MPC-3D-16XGE-SFPP
We offer free FedEx Ground shipping to all our customers in the continental US. If you need more information on expedited or international shipping please see our Shipping & Returns page or ask us directly via phone, email or using our Contact Form page.
---
We Also Recommend