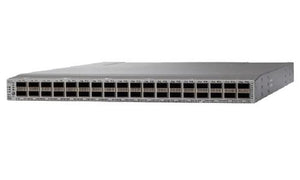 N9K-C9236C Cisco Nexus 9236 36-port 100G Switch
The 9236C Switch is optimized for Cisco NX-OS standalone deployments. It provides 36 high-performance, high-density ports of 10-, 25-, 40-, 50-,and 100-Gbps connectivity in a 1-rack-unit form factor. With 7.2 Tbps of bandwidth, it delivers line-rate Layer 2 and 3 features for high-performance enterprise, service provider hosting, and cloud computing environments.

Features and Capabilities
The 9236C Switch provides comprehensive features, density, and performance you need to meet evolving data center requirements.
Nexus 9236C Switch features include:
Programmability
Open APIs to manage the switch through remote-procedure calls (JavaScript Object Notation [JSON] or XML) over HTTP or HTTPS
Automated configuration through Linux shell scripts
Support for customer applications through a Linux container environment
Support for Puppet, Chef, and Ansible
Scalability
Wire-rate Layer 2 and 3 switching on all ports
Industry first 1RU 100-Gb switch with 36-port density and flexible breakout options
Line-rate virtual extensible LAN (VXLAN) bridging and routing
Border Gateway Protocol Ethernet VPN (BGP EVPN) control plane for scalable multitenancy and host mobility
Segment routing for increased network scalability and virtualization
Operational Efficiency and Traffic Monitoring
Nexus Fabric Manager support to automate fabric configuration and management
Advanced reboot capabilities include hot and cold patching capabilities
Power-on autoprovisioning (POAP) and Preboot Execution Environment (PXE) provide touchless switch bootup and configuration to drastically reduce provisioning time
Real-time buffer utilization per port and per queue to monitor traffic bursts and application traffic patterns
Cisco Nexus Data Broker support for network traffic monitoring and analysis
Investment Protection
Support for 10-, 25-, 40-, and 100-Gbps connectivity for migrating switching infrastructure to faster speeds
Specifications at a Glance
7.2 Tbps of bandwidth in a 1RU form factor
Up to 36 40 to 100-Gbps ports
Up to 144 10 to 25-Gb ports with a breakout cable
Option of port-side intake and port-side exhaust
1+1 redundant, hot-swappable, 80 Plus Platinum-certified power supplies
Built-in EtherAnalyzer for monitoring and troubleshooting control-plane traffic
We offer free FedEx Ground shipping to all our customers in the continental US. If you need more information on expedited or international shipping please see our Shipping & Returns page or ask us directly via phone, email or using our Contact Form page.
---
We Also Recommend