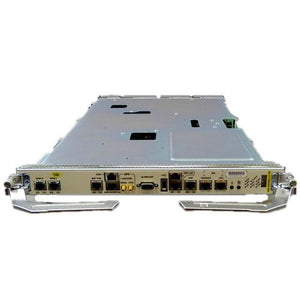 A9K-RSP880-LT-TR Cisco ASR 9000 Series Route Switch Processor 880, Packet Transport Optimized
The Cisco® ASR 9000 Route Switch Processor 880 (RSP 880) is the system processor for the Cisco ASR 9010 Router, ASR 9006 Router, and ASR 9904 Router. RSP880-LT is the system processor for ASR 9010, ASR 9006, ASR 9904, ASR 9910 Router and ASR9906 Router. It supports high-density 100 Gigabit Ethernet line cards and provides backward compatibility with the Cisco ASR 9000 Series second family of line cards. The Cisco ASR 9000 RSP 880 system architecture is designed to accommodate new programmable deployment models and convergence of Layer 2 and Layer 3 services, as required by today's wireline, data-center-interconnect (DCI), and Radio Access Network (RAN) aggregation applications.
The ASR 9000 RSP 880 is designed to deliver the high scalability, performance, and fast convergence required for today's and tomorrow's demanding video, cloud, and mobile services. These featurs provide exceptional scale, service flexibility, and high availability:
Integrated switch fabric architecture:

Distributed switch fabric architecture
Multistage low-latency nonblocking architecture
Service intelligence and traffic prioritization

Superior network-timing capabilities with support for:

Centralized Building Integrated Timing Supply (BITS)
Precision Time Protocol (PTP), or IEEE 1588-2008, through dedicated 10-Mbps or 100-Mbps Ethernet port
Bidirectional time of day (ToD) with 10-MHz and 1-pps interfaces
We offer free FedEx Ground shipping to all our customers in the continental US. If you need more information on expedited or international shipping please see our Shipping & Returns page or ask us directly via phone, email or using our Contact Form page.
---
We Also Recommend