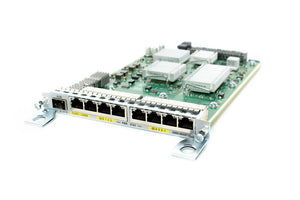 A900-IMA8T Cisco ASR 900 Series 8-Port 1GE RJ45 Module
Cisco A900-IMA8T ASR 900 Series 8-Port 1GE RJ45 Module 

This interface module delivers eight ports of Gigabit Ethernet, Fast Ethernet, and Ethernet connectivity on Cisco ASR 900 Series routers. The interface speed can be software selected per interface. This interface module provides physical connectivity using eight RJ-45 connectors.. 

Cisco ASR 900 Series interface modules are designed to support a wide range of services, speeds, temperature ranges, and capabilities. They provide cost-effective delivery of converged circuit emulation, optical transport network and business Ethernet services.
Overcome the limitations of legacy network technologies in your access network (PDH, SONET, SDH) and evolve beyond a circuit-switched transport networks to a future-proof packet-based network with the Cisco ASR 900 Series. The ASR 900 Series addresses legacy network inefficiencies by delivering a cost-effective, modular solution based on a protocol-independent fabric architecture. The ASR 900 Series, delivers unbounded scale with Circuit Emulation (CEM) and Optical Transport Network (OTN) capabilities, in addition to supporting Carrier Ethernet business services, over a redundant and protected packet-based network (Multiprotocol Label Switching [MPLS]/FlexLSP).
---
We Also Recommend