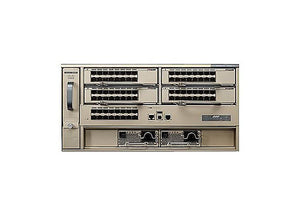 C6880-X-LE Cisco Catalyst 6880-X Chassis (Standard Tables)
Please note - power supplies are NOT included and must be purchased separately.
The Cisco® Catalyst® 6880-X Series Switch is an extensible fixed aggregation switch that delivers a best-in-class Cisco Catalyst 6500 feature set in a small form factor. This premier aggregation platform offers best‑in-class scalability and flexibility with the premier Cisco Catalyst 6500 feature sets. This platform is ideal for those who want to introduce premium 10G services in small or midsize campus backbones. This unique platform offers 10G port density, full MPLS/VPLS functionality with large table sizes (up to 2M FIB entries), and more than 15 years of best-in-class features. With a full suite of L2/L3, virtualization, security, multicast, IPV6, application visibility, smart operations, and rich media services Cisco Catalyst 6800-X delivers unprecedented capabilities on day one. This platform also runs on the same architecture as the Cisco Catalyst 6500 Supervisor Engine 2T and therefore offers stability with a proven operating system software.
The Cisco Catalyst 6800-X Series chassis offers integrated resiliency by providing N+1 redundant fans, 1+1 power supply redundancy, and support for Virtual Switching System (VSS), thereby limiting network downtime, and ensures workforce productivity, customer satisfaction, and profitability.
The Cisco Catalyst 6880-X provides flexibility to build desired port density through two versions (C6880-X-LE with standard FIB/ACL/Netflow tables and C6880-X with larger FIB/ACL/Netflow tables) of base chassis along with optional port cards (Figure 2). The base chassis comes with 16 10G/1G ports, and each port card supports 16 additional 10G/1G ports. Each system can be built up to 80 ports in 16-port increments. The port interface on the base module and the port cards supports both 10 Gigabit Ethernet and 1 Gigabit Ethernet speeds allowing customers to use their investment in 1 Gigabit Ethernet SFP and upgrade to 10 Gigabit Ethernet SFP+ when business demands change, without having to do a comprehensive upgrade of the existing deployment. The port cards are hot swappable.
The Cisco Catalyst 6880-X Series offers primary features and benefits, including:
Platform Scalability: The platform supports up to 220Gbps slot capacity per port-card. It supports up to 2Tbps of switching capacity, which doubles up to 4Tbps with VSS technology.
Security: Support for Cisco TrustSec (CTS), to provide IEEE 802.1AE MACsec encryption and role-based ACL, CoPP to prevent DoS attacks and Cisco ISE to safeguard and manage end-to-end security for the enterprise.
Virtualization: Comprehensive suite of Virtualization features including L2/L3 VPN, full MPLS, EVN, VRF aware applications for NAT Netflow, GRE for v4/v6, L2 extensions with VPLS etc. to segment different user groups and serve unique security/QoS policy requirements of each of these diverse user groups.
Application Visibility and Control (AVC): Supports enhanced application monitoring such as Flexible and Sampled NetFlow for intelligent and scalable application monitoring.
Smart Operations: The Cisco Catalyst 6880-X supports Catalyst Instant Access*, which allows an Instant Access Client to act as a remote line card of the Cisco Catalyst 6880-X, as well as Smart Install Director, which provides zero-touch deployment of access switches.
High Availability: Two Cisco Catalyst 6880-X Series Switches can be combined into a VSS. In addition to high-availability VSS, provides ease of operation by providing a single point of management, eliminating the need for First Hop Routing Protocol (FHRP) and removing the reliance on Spanning Tree Protocol (STP) for link failure restoration. 
We offer free FedEx Ground shipping to all our customers in the continental US. If you need more information on expedited or international shipping please see our Shipping & Returns page or ask us directly via phone, email or using our Contact Form page.
---
We Also Recommend