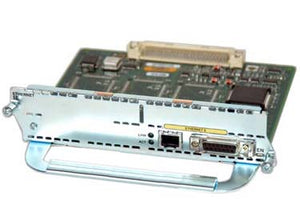 NM-1E Cisco 1-Port Ethernet Network Module
The Cisco 1-Port Ethernet Network Module is part of the Cisco family which provides the broadest line of solutions for transporting data, voice and video while ensuring that networks both public and private operate with maximum performance, security, and flexibility.
Network adapter
Plug-in module
Cisco 2610, 2610M, 2610XM, 2610XM Terminal Server Bundle, 2611, 2611 VPN Bundle, 2611XM, 2611XM VPN Bundle, 2612, 2613, 2620, 2620XM, 2621, 2621XM, 2621XM VPN Bundle, 2621XM-ADSL Router Bundle, 2650, 2650XM, 2651, 2651 VPN Bundle, 2651XM, 2651XM VPN Bundle, 2651XM-V, 2651XM-V-SRST, 3620, 3640, 3640 BRI Dial Bundle, 3640 Gatekeeper, 3640 VPN Bundle, 3640A, 3640A BRI Dial Bundle, 3660, 3661, 3662, 3662 VPN Bundle
10 Mbps
Ethernet
Ethernet 10Base-T
1 x Communication slot
1 x network - Ethernet 10Base-T - RJ-45 - 1
We offer free FedEx Ground shipping to all our customers in the continental US. If you need more information on expedited or international shipping please see our Shipping & Returns page or ask us directly via phone, email or using our Contact Form page.
---
We Also Recommend