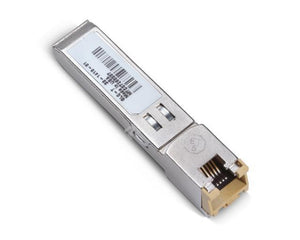 GLC-T Cisco 1000Base-T SFP
The Cisco 1000Base-T SFP is part of the Cisco family which provides the broadest line of solutions for transporting data, voice and video while ensuring that networks both public and private operate with maximum performance, security, and flexibility. This small form-factor, pluggable interface converter plugs directly into your current Gigabit Ethernet port. It will reduce infrastructure costs while ensuring productivity. The GLC-T provides full-duplex connectivity to your high-end workstations and ensures fast data transmission along the copper wiring infrastructure of your current wiring closet.
SFP (mini-GBIC) transceiver module - RJ-45
Plug-in module
0.6 in x 2.8 in x 0.6 in
Full duplex capability, hot swap module replacement
Cisco 5508 Wireless Controller ¦ Cisco Catalyst 2970G-24TS, 3560-12PC, 3560-12PC-S, 3560-24PS EMI, 3560-24PS SMI, 3560-24TS, 3560-24TS EMI, 3560-24TS SMI, 3560-48PS, 3560-48PS EMI, 3560-48PS SMI, 3560-48TS, 3560-48TS EMI, 3560-48TS SMI, 3560E-12D, 3560E-12SD-E, 3560E-12SD-S, 3560E-24PD, 3560E-24TD, 3560E-48PD, 3560E-48PD-F, 3560E-48TD, 3560E-48TD-SD, 3560G-24PS, 3560G-24PS EMI, 3560G-24PS SMI, 3560G-24TS, 3560G-24TS EMI, 3560G-24TS SMI, 3560G-48, 3560G-48PS, 3560G-48PS EMI, 3560G-48PS SMI, 3560G-48TS, 3560G-48TS EMI, 3560G-48TS SMI, 3560X-24P-L, 3560X-24P-S, 3560X-24T-L, 3560X-24T-S, 3560X-48PF-L, 3560X-48PF-S, 3560X-48P-L, 3560X-48P-S, 3560X-48T-L, 3560X-48T-S
1 x Ethernet 1000Base-T - RJ-45
We offer free FedEx Ground shipping to all our customers in the continental US. If you need more information on expedited or international shipping please see our Shipping & Returns page or ask us directly via phone, email or using our Contact Form page.
---
We Also Recommend