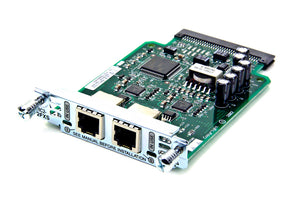 VIC2-2FXS Cisco 2-port Voice Interface Card
The Cisco 2-port Voice Interface Card is part of the Cisco family which provides the broadest line of solutions for transporting data, voice and video while ensuring that networks both public and private operate with maximum performance, security, and flexibility. The VIC2-2FXS allows you to connect normal VoIP devices to your network, along with letting you connect to more complex voice-only virtual private networks so that you can keep your data and your voice transmissions separate. It can fit into any standard unpopulated expansion slot on a number of Cisco Catalyst products.
Voice interface card
Plug-in module
Cisco 1711 Security Access Router, 1712 Security Access Router, 1721 Modular Access Router, 1721 VPN Security Router Bundle, 1751 VPN Bundle, 1751-V, 1760 VPN Bundle, 1760-V3PN Bundle, 2600XM, 2600XM VPN Bundle, 2610XM, 2611XM, 2611XM VPN Bundle, 2620XM, 2621XM VPN Bundle, 2650XM, 2651XM, 2651XM VPN Bundle, 2651XM-V, 2651XM-V-SRST, 2691, 2811 Security Bundle, 2821 Security Bundle, 2851 Security Bundle, 3640, 3640 BRI Dial Bundle, 3640 Gatekeeper, 3640 VPN Bundle, 3640A, 3640A BRI Dial Bundle, 3660, 3661, 3662, 3662 VPN Bundle, 3725, 3725 BRI Dial Bundle, 3725 PRI Dial Bundle, 3725 VPN Security Bundle, 3745, 3745 VPN Bundle, 3745 VPN Security Bundle, 3825 Security Bundle, 3845 Security Bundle ¦ Cisco ICS 7750
FCC Class B certified, UL 1950
2 x modem - FXS - RJ-11
1 x expansion slot
We offer free FedEx Ground shipping to all our customers in the continental US. If you need more information on expedited or international shipping please see our Shipping & Returns page or ask us directly via phone, email or using our Contact Form page.
---
We Also Recommend