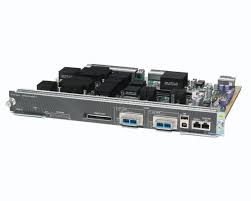 WS-X45-SUP6-E Cisco Catalyst 4500 E-Series Sup 6-E, 2x10GE(X2) w/ Twin Gig
The Cisco Catalyst 4500 E-Series Sup 6-E, 2x10GE(X2) w/ Twin Gig features CenterFlex technology, allowing it to deliver centralized performance and configuration flexibility that is unlike anything else in the industry. It will ensure that profitability and productivity are increased as it optimizes your office's real-time voice, data and video communication. The WS-X45-SUP6-E contains a 1.3 gigahertz processor for speedy processing of commands and can be upgraded to a full gigabyte to allow for plenty of memory for your chosen applications.
Device Type: Control Processor
Form Factor: Plug-in module
Features: Auto-negotiation, VLAN support, IGMP snooping, Syslog support, IPv6 support, High Availability, Spanning Tree Protocol (STP) support, DHCP snooping, Dynamic Trunking Protocol (DTP) support, Port Aggregation Protocol (PAgP) support, Access Control List (ACL) support, Quality of Service (QoS), Multicast Suppression, DHCP server, Virtual Route Forwarding-Lite (VRF-Lite), MLD snooping
Capacity: QoS hardware entries : 64000 ¦ Security services entries : 64000 ¦ Hardware forwarding entries : 256000 ¦ Multicast entries (IPv4) : 128000 ¦ Multicast entries (IPv6) : 64000 ¦ MAC addresses : 55000 ¦ Virtual interfaces (VLANs) : 4096 ¦ IPv6 routes : 128000 ¦ IPv4 routes : 256000
Designed For: Cisco Catalyst 4503-E, 4506-E, 4507R-E, 4510R-E
Performance Bandwidth: 10 Gigabit Ethernet
We offer free FedEx Ground shipping to all our customers in the continental US. If you need more information on expedited or international shipping please see our Shipping & Returns page or ask us directly via phone, email or using our Contact Form page.
---
We Also Recommend