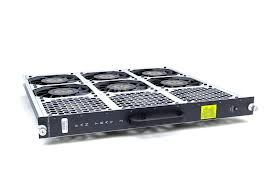 WS-C6K-9SLOT-FAN2 Cisco Catalyst 6500 9-Slot Fan Tray
The Cisco Catalyst 6500 9-Slot Fan Tray provides the maximum possible cooling flow at full power.  The Cisco Catalyst is more efficient than external cabinet cooling due to it's nine DC brushless fans. The fan trays are affordable and there are no other fan trays optimized for Cisco 6500 nine-bay switches, and many of these cabinets come without fans.
Device Type: Fan Tray
Designed For: Catalyst 6509, 6509 chassis, 6509 Firewall and IDS Security System, 6509 Firewall and VPN Security System, 6509 Wiring Closet Bundle; Supervisor Engine 720, 720 with PFC3B
Product Description: Cisco High Speed Fan - fan tray
We offer free FedEx Ground shipping to all our customers in the continental US. If you need more information on expedited or international shipping please see our Shipping & Returns page or ask us directly via phone, email or using our Contact Form page.
---
We Also Recommend