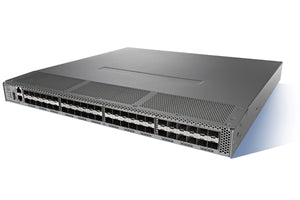 DS-C9148S-12PK9 Cisco MDS 9148S 16G Multilayer Fabric Switch
The Cisco MDS 9148S 16G Multilayer Fabric Switch (Figure 1) is the next generation of the highly reliable, flexible, and low-cost Cisco MDS 9100 Series switches. It combines high performance with exceptional flexibility and cost effectiveness. This powerful, compact one rack-unit (1RU) switch scales from 12 to 48 line-rate 16 Gbps Fibre Channel ports.
Part Number: DS-C9148S-12PK9
The Cisco MDS 9148S is excellent for:
● A standalone SAN in small departmental storage environments
● A top-of-the-rack switch in medium-sized redundant fabrics
● An edge switch in enterprise data center core-edge topologies
The Cisco MDS 9148S is powered by Cisco NX-OS and Cisco Prime™ Data Center Network Manager (DCNM) software. It delivers advanced storage networking features and functions with ease of management and compatibility with the entire Cisco MDS 9000 Family portfolio for reliable end-to-end connectivity.
Features:
● 2/4/8/16-Gbps auto-sensing with 16 Gbps of dedicated bandwidth per port
● Up to 256 buffer credits per group of 4 ports (64 per port default, 253 maximum for a single port in the group)
● Supports configurations of 12, 24, 36, or 48 active ports, with pay-as-you-grow, on-demand licensing
● Advanced Functions
● Virtual SAN (VSAN)
● Inter-VSAN Routing (IVR)
● PortChannel with multipath load balancing
● Flow-based and zone-based QoS
We offer free FedEx Ground shipping to all our customers in the continental US. If you need more information on expedited or international shipping please see our Shipping & Returns page or ask us directly via phone, email or using our Contact Form page.
---
We Also Recommend