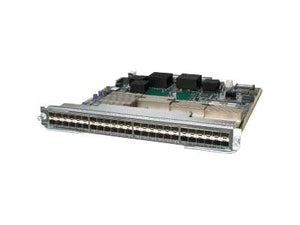 DS-X9224-96K9 Cisco MDS 9000 24-Port 8 GBps Fibre Channel Switching Module
The Cisco MDS 9000 Fibre Channel Switching Module (FCSM) provides high performance and compatibility with existing devices by autosensing 1/2/4/8-GBps interfaces. The front panel ports of the module deliver up to 192 GBps of full-duplex bandwidth, allowing for the attachment of 4 and 8 GBps enabled storage subsystems and InterSwitch Link (ISL) connectivity. The MDS 9000 family supports fibre channel link encryption, preserving the integrity and confidentiality of traffic between any of its 8 GBps modules. Other security features include RADIUS and TACACS+ support, as well as Secure Shell (SSH) Protocol. It's high port density, advanced traffic management, hardware-enabled serviceability, and comprehensive security features make the Cisco MDS 9000 Family the platform of choice when building large scale Storage Area Networks (SANs).  
Device Type: Switch - 24 x 8GB Fibre Channel Ports
Enclosure Type: Plug-in module
Dimensions (WxDxH): 14 in x 16 in x 1.2 in
Remote Management Protocol: SNMP3, SSH-2
Authentication Method: RADIUS, TACACS+, Secure Shell v.2 (SSH2)
Interfaces: Fibre Channel, 24 x SFP (mini-GBIC)
Fibre Channel: FC-AL, FC-AL-2, FC-BB, FC-DA, FC-FLA, FC-FS, FC-GS-3, FC-GS-4, FC-MI, FC-PH, FC-PH-2, FC-PH-3, FC-PI, FC-PLDA, FC-SB-2, FC-SB-3, FC-SW-2, FC-SW-3, FC-Tape, FC-VI, FC-SP, FC-BB-2, FCP, FCP-2, FC-PI-2, FC-BB-3, FC-FS-2, FC-GS-5, FC-SW-4, FCP-3, FC-LS, FC-MI-2, FC-PI-4, FC-FS-3, FC-GS-6, FC-SW-5
Features: Routing, auto-sensing per device, Syslog support, Quality of Service (QoS)
Designed For: MDS 9506 Multilayer Director, 9509 Fibre Channel Director, 9509 Multilayer Director, 9513 Multilayer Director
We offer free FedEx Ground shipping to all our customers in the continental US. If you need more information on expedited or international shipping please see our Shipping & Returns page or ask us directly via phone, email or using our Contact Form page.
---
We Also Recommend