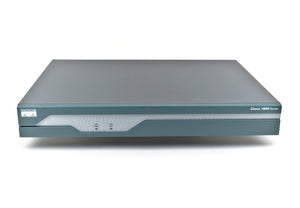 CISCO1841-SEC/K9 Cisco 1841 Security Bundle, Adv.Security, 64FL/256DR
The Cisco 1841 Security Bundle, Adv.Security, 64FL/256DR is part of the Cisco family which provides the broadest line of solutions for transporting data, voice and video while ensuring that networks both public and private operate with maximum performance, security, and flexibility. The CISCO1841-SEC/K9 is a multilayer fabric router that can be quickly integrated into any size network. It comes with full Access Control List support, all fiber channels, telnet and SNMP 3 remote management protocol and the most effective expansion and connectivity interface on the market today.
Router
Form Factor: Desktop - modular - 1U
13.5 in x 10.8 in x 1.7 in
Ethernet, Fast Ethernet
Firewall protection, hardware compression, hardware encryption, VPN support, VLAN support, Intrusion Detection System (IDS), Intrusion Prevention System (IPS), wall mountable, Dynamic Multipoint VPN (DMVPN), Network Admissions Control (NAC)
256 MB (installed) / 384 MB (max) - SDRAM
2 x 10Base-T/100Base-TX - RJ-45 ¦ USB : 1 x 4 pin USB Type A ¦ Management : 1 x console ¦ Management : 1 x auxiliary
1 (total) / 0 (free) x CompactFlash ¦ Memory ¦ 1 (total) / 1 (free) x AIM ¦ 2 (total) / 2 (free) x HWIC
CSA, CTR 21, CISPR 22 Class A, CISPR 24, EN 60950, EN 61000-3-2, IEC 61000-4-11, IEC 61000-4-2, IEC 61000-4-3, IEC 61000-4-4, IEC 61000-4-5, IEC 61000-4-6, EN 61000-3-3, EN55024, EN55022 Class A, EN50082-1, EN 61000-4-4, EN 61000-4-2, EN 61000-4-3, EN 61000-4-6, CS-03, EN 61000-4-5, UL 60950-1
We offer free FedEx Ground shipping to all our customers in the continental US. If you need more information on expedited or international shipping please see our Shipping & Returns page or ask us directly via phone, email or using our Contact Form page.
---
We Also Recommend