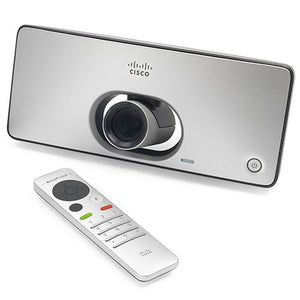 CTS-SX10N-K9 Cisco SX10 TelePresence System - Video Conferencing Kit
The Cisco SX10 Quick Set is an all-in-one unit designed to video-enable your small collaboration spaces, offering great affordability for small-to-medium businesses just starting out with video conferencing. With the SX10, you can also extend video conferencing pervasively throughout your enterprise. The SX10 supports cloud registration to Cisco Webex for even faster and more cost-effective deployment.
This low-cost, high-quality unit combines camera and codec into a single, compact device that is mounted over your standard flat-panel display and connects through a discreet single-cable system for Power over Ethernet (PoE). High-definition video is enabled with 1080p30 resolution, while an industry-leadership wide-angle field of view provides the best overview even in small spaces. Support for Cisco Intelligent Proximity allows you to use your iOS and Android devices to wirelessly control the SX10 as well as receive shared content for richer collaboration. Wireless content sharing is also possible from your laptop or PC.
High quality, simplicity, and affordability come together in the SX10 Quick Set to create a practical and powerful business class solution for video ubiquity
We offer free FedEx Ground shipping to all our customers in the continental US. If you need more information on expedited or international shipping please see our Shipping & Returns page or ask us directly via phone, email or using our Contact Form page.
---
We Also Recommend