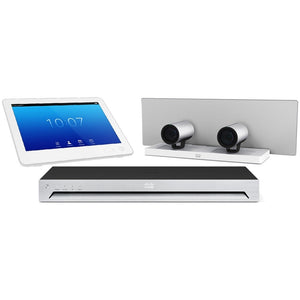 CTS-SX80-IPST60-K9 Cisco SX80 Codec, SpeakerTrack60 Microphone Array, & Touch 10
The Cisco CTS-SX80-IPST-K9 Telepresence system includes SX80 Codec, rack ears, power cables, presentation cable, Touch 10, gray Ethernet cable, power injector, & SpeakerTrack 60 unit.
The Cisco SX80 Codec (SX80 Codec) provides a powerful and flexible platform for creating the ultimate video collaboration experience. The SX80 Codec was built with the integrator in mind, enabling flexibility and creativity for customized video collaboration rooms that delight the customer. The SX80 acts as the audio and video engine to incorporate high-definition video collaboration applications into large meeting rooms, boardrooms and purpose-built or vertical application rooms.


The SX80 delivers up to a 1080p60 end-to-end High Definition (HD) video and offers industry-first support for H.265, which lays the foundation for future bandwidth efficiencies made possible by the new standard. The codec offers a rich input and output set, flexible media engine and support for three screens enable a variety of use cases, adaptable to your specific needs. The SX80 can register on the premises or to Cisco Webex in the cloud.1

The SX80 Codec also supports several sophisticated camera features to enable intelligent viewing capabilities within a video conference:

● Cisco SpeakerTrack 60 dual camera system – features a unique direct, fast-switching approach for active speaker tracking with two pan-tilt-zoom cameras

● Cisco Webex Quad Camera – sophisticated system with four embedded digital cameras that enable best overview and speaker tracking capabilities for deep and large meeting rooms; with Quad Camera, the SX80 can also deliver metrics like people count

● Cisco PresenterTrack2 – an industry-first feature, supports automatic detection and tracking of the presenter at the front of a video conferencing room, dynamically following the presenter from seated to stand-up position within a defined trigger area so they can move about more freely (requires additional Cisco Precision 60 Camera)
We offer free FedEx Ground shipping to all our customers in the continental US. If you need more information on expedited or international shipping please see our Shipping & Returns page or ask us directly via phone, email or using our Contact Form page.
---
We Also Recommend