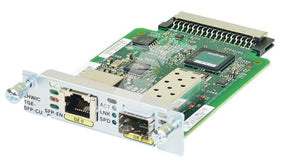 EHWIC-1GE-SFP-CU Cisco Enhanced HWIC, Dual Mode 1 port SFP/Copper
The Cisco Gigabit Ethernet Dual-Identity Enhanced High-Speed WAN Interface Card (EHWIC) brings both Small Form-Factor Pluggable (SFP) and copper (RJ-45) Gigabit Ethernet connectivity to Cisco Integrated Services Routers (ISRs) to accelerate applications such as Ethernet WAN access, inter-VLAN routing (IVR), and high-speed connectivity to LAN switches.
The single-port Cisco Gigabit Ethernet EHWIC provides Gigabit Ethernet optical and copper connectivity in a compact form factor to the Cisco Integrated Service Router Generation 2 (ISR G2).
The Gigabit Ethernet EHWIC enables branch offices to cost-effectively use high-speed uplinks in numerous environments. The enhanced performance of Gigabit Ethernet in Cisco ISR G2 routers enables new applications and services and provides greater capacity for existing IVR and bridging capabilities. Branch offices can now connect to Ethernet WAN (EWAN) Layer 2 and 3 services.
Note: The EHWIC provides Gigabit Ethernet connectivity but will not support line rate since throughput is limited by the platforms. The maximum throughput cannot exceed 800 Mbps bidirectionally.
For flexibility, the EHWIC includes one SFP slot, which supports a Cisco SFP and a copper RJ-45 port, where either the SFP port (operating at 100/1000 Mbps) or the RJ-45 (operating at 10/100/1000 Mbps) port can be active at one time. The SFP port supports digital optical monitoring (DOM) as specified by the industry-standard SFF-8472 multisource agreement (MSA). This feature enables the end user to monitor real-time parameters of the SFP, such as optical output power, optical input power, temperature, laser bias current, and transceiver supply voltage.
---
We Also Recommend