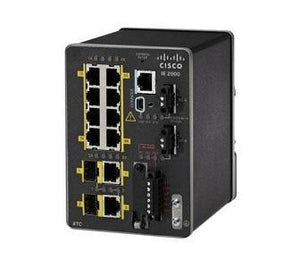 IE-2000-8TC-B Cisco IE 2000 Series 10 port Switch - 8x10/100 BaseT/2x10/100 Uplinks
The Cisco® Industrial Ethernet 2000 (IE 2000) Series is a range of compact, ruggedized access switches that handle security, voice, and video traffic across industrial networks. They provide customers in industries such as automotive, oil and gas, mining, transportation, and energy with highly secure access and industry-leading convergence using Cisco Resilient Ethernet Protocol (REP).
Product details
The Cisco IE 2000 Series are designed for low cost, low ports, and small sizes. They offer:
●      Four, eight, or 16 10/100Base-T Ethernet ports (Small Form-Factor Pluggable [SFP] downlinks on selected models); fixed configurations with a compact form factor
●      Two gigabit combo ports: SFP (100 Mbps and 1 Gbps) or RJ45 uplink
●      Dual-input DC power supply, alarm relays, DIN rail mount
●      Industrial Power over Ethernet (PoE) solution
●      Conformal coating SKUs available (IE-2000-16TC-G-X and IE-2000-16PTC-G- NX)
●      Swappable SD flash card and mini-USB connector
●      Industrial environmental compliance and certifications
●      Industrial partner applications: Ethernet/IP and PROFINET
●      Easy deployment: Zero-touch discovery using Dynamic Host Control Protocol (DHCP), auto sync to SD card, express setup, and fast boot-up time (60 seconds) to help in migrating to an Ethernet environment without resistance.
●      Security: 802.1x, port security, and DHCP allow dynamic port-based authentication; Secure Shell (SSHv2); SNMPv3 provides encrypted administrator traffic during Telnet and SNMP sessions; TACACS+ and RADIUS authentication facilitate centralized control and restrict unauthorized users.
●      Resiliency: Cisco REP ring protocol and PROFINET– Media Redundancy Protocol (MRP)
●      Manageability: Cisco DNA Center software, Auto SmartPort, Web Device Manager, Telnet, HTTPS access, SNMP, CNA, and Cisco Prime Infrastructure.
●      Network Address Translation (NAT): Line-rate, hardware-enabled 1:1 static address translation designed to enable duplicate IP address usage in the Layer 2 machine node networks.
●      Layer 3 routing: IPv4 and IPv6.
●      Industrial PoE: PoE (IEEE 802.af) and PoE+ (802.3at) supported on selected models.
●      Industrial automation protocols: EtherNet/IP (CIP) and PROFINET MRP (IEC 62439-2) allow integration with existing management platforms from Rockwell, Siemens, and others.
Switch performance and scalability
●      Maximum Forwarding Bandwidth 3.8Gbps
●      Maximum Switching Bandwidth 7.6Gbps
●      Maximum Forwarding rate: 5.66Mpps with 64-byte packets (Line-rate at all packet sizes)
●      Egress buffer: 2 MB
●      Unicast MAC addresses: 8000
●      Internet Group Management Protocol (IGMP) multicast groups: 255
●      Maximum virtual LANs (VLANs): 1005
●      IPv4 MAC security ACEs: 384 (default Ternary Content-Addressable Memory [TCAM] template)
●      Bidirectional, 128 NAT translation entries
●      IPv4 routing: 3500 routes, IPv6 routing: 1750 routes
---
We Also Recommend