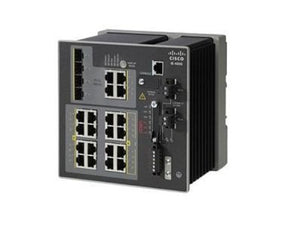 IE-4000-8GT4G-E Cisco IE4000 8xGigE RJ45/4xGigE Uplink Switch
The Cisco IE-4000-8GT4G-E Industrial Ethernet Switch delivers Gigabit connectivity to Cisco ruggedized switching portfolio with superior high-bandwidth switching capacity.  It includes:
8x GigE RJ45 copper ports

4x GigE combo uplink ports - SFP or RJ45
The IE 4000 Series is ideal for industrial Ethernet applications where hardened products are required, including manufacturing, energy, transportation, smart cities. The IE4000 has built-in SW image verification to ensure authenticity of the Cisco Software. With improved overall performance, greater bandwidth, advanced security features, and enhanced hardware, the Cisco IE 4000 Series complements the current industrial Ethernet portfolio of related Cisco industrial switches, such as the Cisco IE 2000, IE 3200, IE 3300 and IE 3400.
The IE 4000 Series can be used to easily and securely extend the enterprise network to harsh environments with a software-defined access extension for the Internet of Things (IoT) enabling connectivity in outdoor areas, warehouses, distribution centers, roadways, etc., using powerful enterprise-grade intent-based network management platform such as Cisco DNA Center.
The Cisco IE 4000 can easily be installed with a GUI based Device Manager and it also offers out-of-the-box industrial usage configuration and simplified manageability to deliver advanced security, data, video, and voice services over industrial networks.
---
We Also Recommend