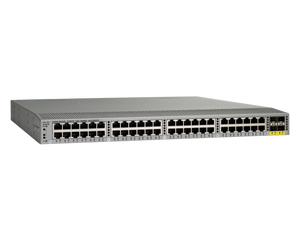 N2K-C2248TP-E-1GE Cisco Nexus 2248TP-E Series 1 GE Fabric Extender, 48x100/1000Base-T+4x10GE
The Cisco Nexus 2248TP-E is a general-purpose 1 Gigabit Ethernet fabric extender with enhancements that target workloads such as large-volume databases, distributed storage, and video editing. Like the Cisco Nexus 2248TP, the Cisco Nexus 2248TP-E supports 48 x 100/1000BASE-T host-facing ports and four 10 Gigabit Ethernet fabric interfaces. It also supports 32-MB shared buffers.
The Cisco Nexus® 2000 Series Fabric Extenders comprise a category of data center products designed to simplify data center access architecture and operations. The Cisco Nexus 2000 Series uses the Cisco® fabric extender architecture to provide a highly scalable unified server-access platform across a range of 100 Megabit Ethernet, 1 and 10 Gigabit Ethernet, unified fabric, copper and fiber connectivity, and rack and blade server environments. The platform is well suited to support today's traditional 1 Gigabit Ethernet environments while allowing transparent migration to 10 Gigabit Ethernet, virtual machine-aware unified fabric technologies.
The Cisco Nexus 2000 Series Fabric Extenders behave like remote line cards for a parent Cisco Nexus switch. The fabric extenders are essentially extensions of the parent Cisco Nexus switch fabric, with the fabric extenders and the parent switch together forming a distributed modular system. This architecture enables physical topologies with the flexibility and benefits of both top-of-rack (ToR) and end-of-row (EoR) deployments.
Device Type: Expansion module - 48 ports
Form Factor: Rack-mountable
Dimensions (WxDxH): 17.3 in x 17.7 in x 1.7 in
 We offer free FedEx Ground shipping to all our customers in the continental US. If you need more information on expedited or international shipping please see our Shipping & Returns page or ask us directly via phone, email or using our Contact Form page.
---
We Also Recommend