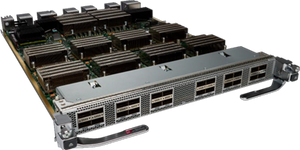 N77-M324FQ-25L Cisco Nexus 7700 M3-Series 24-Port 40G Ethernet Module
The Cisco Nexus® 7700 M3-Series 24-Port 40 Gigabit Ethernet Module is a versatile I/O module with a comprehensive feature set that offers wire-rate performance on each port. The module provides deep buffers and high-capacity Ternary Content- Addressable Memory (TCAM), making this module an excellent choice for building high-density, low-latency, scalable data centers.
The Cisco Nexus 7000 Series Switches are the foundation of the Cisco® Unified Fabric solution. Designed to meet the requirements of mission-critical data centers, these switches deliver exceptional availability, outstanding scalability, and the proven and comprehensive Cisco NX-OS Software data center switching feature set.
The Cisco Nexus 7700 platform, which supports more than 83 Terabits per second (Tbps), is the latest extension to the Cisco Nexus 7000 Series modular switches. The Cisco Nexus 7700 platform switches are operationally consistent with the existing Cisco Nexus 7000 Series switches and have a similar system architecture. The Cisco Nexus 7700 Series switches are designed using the same Application-Specific Integrated Circuit (ASIC) technology and run on the same proven NX-OS releases as the Cisco Nexus 7000 switches. 
Part Number: N77-M324FQ-25L
We offer free FedEx Ground shipping to all our customers in the continental US. If you need more information on expedited or international shipping please see our Shipping & Returns page or ask us directly via phone, email or using our Contact Form page.
---
We Also Recommend