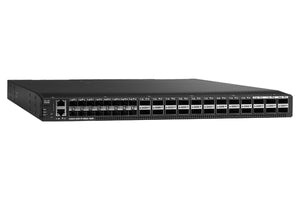 UCS-FI-6332-16UP Cisco UCS 6332-16UP 40-port Fabric Interconnect
The 6332-16UP Fabric Interconnect is the management and communication backbone for Cisco UCS B-Series Blade Servers, C-Series Rack Servers, and 5100 Series Blade Server Chassis. All servers attached to a 6332-16UP Fabric Interconnect become part of one highly available management domain.
Because it supports unified fabric, the Cisco UCS 6300 Series Fabric Interconnect provides both LAN and SAN connectivity for all servers within its domain.
The 6332-16UP offers 40 ports in one rack unit (RU), including:
24 40-Gigabit Ethernet and Fibre Channel over Ethernet (FCoE)
16 1- and 10-Gbps and FCoE or 4-,8-, and 16-Gbps Fibre Channel unified ports
Enhanced features and capabilities include:
Increased bandwidth up to 2.43 Tbps
Centralized unified management with Cisco UCS Manager
Efficient cooling and serviceability such as front-to-back cooling, redundant front-plug fans and power supplies, and rear cabling
Highly Scalable Architecture
Cisco Fabric Extender technology scales up to 20 chassis in a single unified system without additional complexity. This means that customers can eliminate dedicated chassis management and blade switches, as well as reduce cabling.
Virtual-Machine-Optimized Services
Cisco Virtual Machine Fabric Extender technology helps enable a consistent operational model and visibility between physical and virtual environments. This technology also simplifies enforcement of security and network policy when moving virtual machines across hosts.
Cisco SingleConnect Technology
SingleConnect is an easy, intelligent, and efficient way to connect and manage computing in the data center. SingleConnect offers one connection for:

Rack servers and blade servers
LAN, SAN, and systems management
Physical servers and virtual machines
We offer free FedEx Ground shipping to all our customers in the continental US. If you need more information on expedited or international shipping please see our Shipping & Returns page or ask us directly via phone, email or using our Contact Form page.
---
We Also Recommend