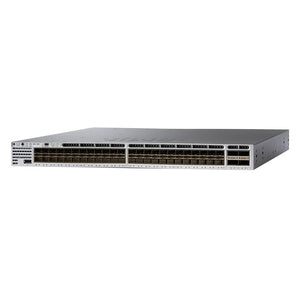 WS-C3850-48XS-S Cisco Catalyst 3850 48-port 10G SFP+ Switch with 4x40G QSFP+ uplinks
The Cisco Catalyst 3850 Series provides capabilities that ideally suited to support the convergence of wired and wireless access. The new Cisco Unified Access Data™ Plane (UADP) Application-Specific Integrated Circuit (ASIC) powers the switch and enables uniform wired-wireless policy enforcement, application visibility, flexibility, and application optimization. This convergence is built on the resilience of the new and improved Cisco StackWise®-480 technology.
The Cisco Catalyst 3850 Series Switches support full IEEE 802.3at Power over Ethernet Plus (PoE+), Cisco Universal Power Over Ethernet (Cisco UPOE®), modular and field-replaceable network modules, RJ-45 and fiber-based downlink interfaces, and redundant fans and power supplies.
Catalyst 3850-48XS
48 10G SFP+ ports
4x40G QSFP+ uplinks (fixed)
Supports all power supplies
Product Features
Integrated wireless controller capability with:

Up to 40G of wireless capacity per switch (48-port RJ45 models)
Support for up to 100 access points and 2000 wireless clients on each switching entity (switch or stack)

24 and 48 10/100/1000Mbps data PoE+ and Cisco UPOE models with Energy-Efficient Ethernet (EEE)
24 and 48 100Mbps/1/2.5/5/10 Gbps Cisco UPOE models with Energy-Efficient Ethernet (EEE)
12- and 24-port 1 Gigabit Ethernet SFP-based models
12- and 24-port 1/10 Gigabit Ethernet SFP+-based models
48-port 1/10 Gigabit Ethernet SFP+ model with 4 fixed 40 Gigabit Ethernet QSFP+ uplinks
Cisco StackWise-480 technology provides scalability and resiliency with 480 Gbps of stack throughput[1]
Cisco StackPower® technology provides power stacking among stack members for power redundancy1
Five optional uplink modules[2] with 4 x Gigabit Ethernet, 2 x 10 Gigabit Ethernet, 4 x 10 Gigabit Ethernet[3], 8 x 10 Gigabit Ethernet4, or 2 x 40 Gigabit Ethernet QSFP+[4] ports
Dual redundant, modular power supplies and three modular fans providing redundancy
Full IEEE 802.3at (PoE+) with 30W power on all copper ports in 1 Rack Unit (RU) form factor
Cisco UPOE with 60W power per port in 1 Rack Unit (RU) form factor
IEEE 802.3bz (2.5/5 G/s BASE-T) to go beyond 1 Gb/s with existing Cat5e and Cat6
IEEE 802.1ba AV Bridging (AVB) built-in to provide better AV experience for including improved time synchronization and QoS
Software support for IPv4 and IPv6 routing, multicast routing, modular Quality of Service (QoS), Flexible NetFlow (FNF), and enhanced security features
Single universal Cisco IOS® Software image across all license levels, providing an easy upgrade path for software features
Cisco DNA services delivered through Cisco ONE™ Software, providing simplified, high-value solutions with license portability and flexibility
Support for AES-256 with the powerful MACSEC 256-bit for SFP+ and Multigigabit models and 128-bit encryption algorithm available on all models
We offer free FedEx Ground shipping to all our customers in the continental US. If you need more information on expedited or international shipping please see our Shipping & Returns page or ask us directly via phone, email or using our Contact Form page.
Featured Product
---
We Also Recommend