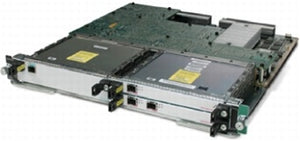 7600-SIP-600 Cisco 7600 Series SPA Interface Processor 600
 The Cisco 7600 Series SPA Interface Processor 600 (7600-SIP-600) is designed with enterprise and service provider customers in mind, providing modular port adapters that are interchangeable across Cisco routing platforms. The 7600-SIP-600 has the unique ability to combine Layer 2 and Layer 3 services on the same line card, distinguishing it from other competing products on the market, particularly in Metro Ethernet applications. It combines distributed forwarding with ASIC technology in the forwarding path (routing and switching, NetFlow, access control lists [ACLs]) with queuing and shaping functions to provide the kind of performance and flexibility that is ideal for customers who need to be able to scale system capacities for future service deployments. Additionally, a programmable network Processor is included in the forwarding plane to facilitate the Processor's options for growth. 
Device Type: Control Processor
Enclosure Type: Plug-in module
Dimensions (WxDxH): 15.4 in x 16 in x 1.7 in
RAM: 1.25 GB (max)
OS Required: Cisco IOS 12.2(18)SXF
Compatible Slots: 1 Expansion slot
Features: MPLS support, VLAN support, IPv6 support
Designed For: Cisco 7604, 7606, 7609, 7613 ¦ Cisco Catalyst 6503, 6503-E, 6503-E WSLM Bundle, 6504-E, 6504-E chassis with Supervisor Engine 32, 6504-E with Supervisor Engine 720-3B, 6506, 6506 chassis, 6506-E, 6506-E chassis with Supervisor Engine 32, 6506-E IPSec VPN SPA Security System Bundle, 6506-E VPN System, 6509, 6509 chassis, 6509 Wiring Closet Bundle, 6509-E, 6509-E chassis with Supervisor Engine 32, 6509-NEB, 6509-NEB-A, 6513, 6513 chassis, 6513 Chassis with Supervisor Engine 32
We offer free FedEx Ground shipping to all our customers in the continental US. If you need more information on expedited or international shipping please see our Shipping & Returns page or ask us directly via phone, email or using our Contact Form page.
---
We Also Recommend