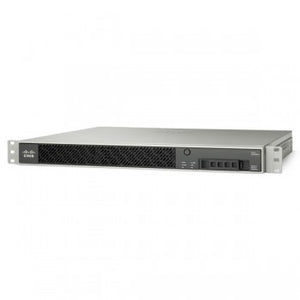 ASA5515-SSD120-K9 Cisco ASA 5515-X Next Generation Firewall w/ SW, 6GE Data, 1GE Mgmt, AC, 3DES/AES, SSD 120G
The NGFW ASA 5515-X w/ SW,6GE Data,1GE Mgmt,AC,3DES/AES,SSD 120G is part of the Cisco family which provides the broadest line of solutions for transporting data, voice and video while ensuring that networks both public and private operate with maximum performance, security, and flexibility. The ASA5515-SSD120-K9 is the next generation firewall of the ASA 5500-X Series and delivers excellent performance with up to 1.2 Gbps stateful inspection throughput, 250 IPsec VPN peers, 250,000 concurrent connections and 1 expansion slot makes it ideal for the small, mid-size enterprises or branch offices while delivering exceptional security.
We offer free FedEx Ground shipping to all our customers in the continental US. If you need more information on expedited or international shipping please see our Shipping & Returns page or ask us directly via phone, email or using our Contact Form page.
---
We Also Recommend